Growing up, I didn't yet know Elizabeth Taylor as the volatile, verbose dipsomaniac Martha from Who's Afraid of Virginia Woolf. Nor did I know her as the neglected wife Maggie in Cat on a Hot Tin Roof, a character whose beauty, whose ripeness posing on that bed in that white satin slip, I would later understand, perfectly communicated the practical uselessness, to a woman, of being generally considered "sexy." I hadn't watched those movies yet, or read those plays (although it turns out Tennessee Williams has a more compelling explanation for Brick's lack of desire than MGM felt comfortable putting on the big screen in 1958). I mostly knew Elizabeth Taylor as the woman from those funny perfume ads that ran in my American mother's outdated copies of Good Housekeeping magazine.
Elizabeth Taylor launched her first fragrance, "Passion," in 1988. Other perfumes — "Gardenias," "Black Pearls" — soon followed, but it is "White Diamonds," which will turn 20 this fall, that is still on shelves, and White Diamonds that still does around $200 million in annual sales today. Taylor was definitely not the first celebrity to distill fame into a scent to be bottled and sold — Alain Delon released a whole series of perfumes in the 1980s, as did Catherine Deneuve, via a licensing agreement with Avon, and Sophia Loren, who signed a deal with the fragrance giant Coty — but Taylor was one of the first and the few to have any staying power at the perfume counter.
Most perfumes, especially celebrity perfumes, quickly fall from view: this is for the very simple reason that most celebrity perfumes are lackluster scents hitched seemingly at random to a "star" for no other reason than to make a quick buck. (Who now remembers, let alone wears, Mikhail Baryshnikov's "Misha" or Cher's "Uninhibited"?) And once the initial glow of hype fades, that lackluster celebrity scent is left in the tough position of having to compete with the Chanel No. 5s of this world. But when it's right, it's right. A well-formulated scent, cleverly marketed, which retails for the right price, is basically a license to print money with an almost indefinite shelf life. Best-selling perfumes, along with cosmetics, sunglasses, and other small accessories are where most fashion houses make the money that keeps them in the black. That's why some fashion brands persist as perfume brands long after they have ceased to even bother making clothes. (Thierry Mugler, with its best-sellers like "Angel," was in that position for over a decade, until Nicola Formichetti was hired last year to make Mugler into a clothing brand again.)
Taylor's effort at parlaying all those well-earned decades of fame into cash money certainly paid off. And my goodness, those ads! Those gauzy, Vaseline-lensed print campaigns, in which Liz inevitably looked as though she knew a secret you didn't (but could learn, maybe, for the cost of a $58 set of four mini-EDTs). And those television commercials with the horses galloping and the diamond jewelry and the rapid cuts! Taylor marketed little bottles of her own glamour, and she did marketed them earnestly, without condescending to her audience. How could she not move product?
G/O Media may get a commission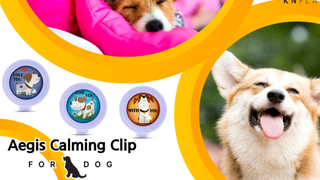 20% off
Aegis Calming Clip for Dogs
Male Aura For Women's Fragrances [NYTimes]
The Cult Of The Celebrity Scent [Perfume Shrine]