Eileen Ford, former model and co-founder of the famous modeling agency Ford Models with her husband Jerry, died Wednesday at the age of 92.
A graduate of Barnard College, Ford had an admittedly privileged upbringing. After marrying Jerry, Ford started her agency by booking gigs for her model friends. Eventually, she became responsible for drawing the attention of the world to some of the most famous faces of then and now – Jean Patchett (the agency's first big success, seen at left shot by Irving Penn for Vogue in 1950), Martha Stewart, Jerry Hall, Christy Turlington, Jane Fonda, Rene Russo, Kim Basinger, Lauren Hutton, Brooke Shields, Naomi Campbell, Candice Bergen, Ali MacGraw, Jean Shrimpton – and is often credited for helping pave the path to the era of supermodels. Eventually, Ford found herself competing with agencies like Wilhelmina (founded by Wilhelmina Cooper, herself a former Ford girl) and Elite for top models. She developed an acrimonious and infamous rivalry with the head of Elite, John Casablancas. "Eileen Ford's game is crystal-clear," he said in 1980 during the so-called "model wars." "She wants my skin...I will never sleep with both eyes closed as long as that woman is around."
Jerry, who ran the business side of the company and died in 2008, has been credited with implementing a fairer and more favorable system of payment for their models than had existed previously (if the industry has been criticized for underpaying its models now, it was worse before). His tactics helped the women strike deals for lucrative commercial contracts. But Eileen was known for "mothering" her "girls," giving them advice, meticulously watching their diet and grooming and even having them stay with her in her own home.
Ford was best known for imposing her idea of "American" beauty upon the masses, which had pretty strict limitations: she favored tall, blonde, white girls with light eyes, limited boobs and no freckles. "I feel that my ideas of beauty have been given very strong backing by Botticelli and a few others," she told People in 1982. "Slender hands, long neck, long limbs—look at Nefertiti. She was very teensy-weensy with a long neck and wide-spaced eyes."
G/O Media may get a commission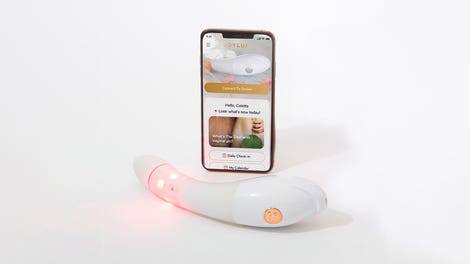 $50 Off
Joylux vFit Gold Device
In 2010 she said beauty was, "Wide-set eyes, full lips — nobody invented full lips — long neck, legs long. Good legs are essential. I'm sick and tired of seeing that the answer depends on the soul." Janice Dickinson has famously said that Ford rejected her from her agency by telling Dickinson she "had 'the N word lips.'" Ford also repeatedly openly expressed her disinterest in developing concern about the growth of eating disorders among models, unionization and the effect the images of these women has on young female consumers.
The author of several books, Ford retired in 1995 and Ford Models was taken over by her daughter, before the company was sold to Stone Tower Equity Partners. The agency posted the following statement about her death on their blog on Thursday:
Today we not only lost our founder, but a mentor, a mother, and an icon. Eileen Ford was an indomitable force who not only defined Ford Models, but the world of modeling itself. The myriad ways Eileen affected the world of fashion and the public perception of beauty are ineffable. Though she will be missed, her fearlessness, generosity of spirit, and unequivocal vision will continue to live on in the agency she founded nearly 70 years ago.
"Let me point out to you that I have absolutely no talent," Ford said in 2010. "I can't play the piano. If I sing Cole Porter, you'd wonder who made up that awful song. (And I love to sing!) I could only do one thing. I could find models."
Image via Marty Lederhandler/AP