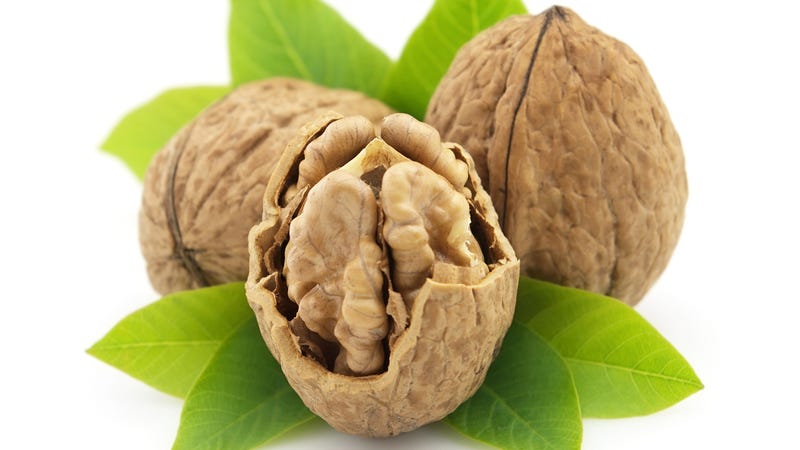 Did you hear? That eating nuts will make your nuts grow big and strong? To be clear: I mean eating nut-nuts—not like NUTS. Like walnuts! Not crotch-nuts. I am not saying that you should go out under cover of night and devour human testicles to absorb their powers. Do not do that. Not only is it rude, it will have zero effect on your sperms (anyone who tells you otherwise is a warlock). Crunchy meaty walnuts, on the other hand, are apparently superfood for your junk. So devour away! (And please, stop going to that warlock for medical advice.)
Eat nuts for your nut-health—it seems too perfect to be true (should I also drink some rhinoceros-horn tea to grow my dong?). But according to a study in Biology of Reproduction, researchers have linked walnut consumption with all sorts of "improved semen parameters":
Robbins and colleagues set out to explore whether adding walnuts to a Western-style diet would improve semen quality. They randomized 117 healthy men ages 21 to 35 (mean age 25) with no known history of infertility to add 75 grams of whole-shelled walnuts a day to their usual diet or to continue their usual eating habits while avoiding tree nuts.

The walnuts were supplied by the California Walnut Commission, which provided funding for the study.

...Sperm parameters improved in the group that consumed walnuts (but not in the control group), resulting in significantly better sperm vitality, motility, and morphology.
Super-sperms. Nutty, morphy super-sperms. You know, I always feel a little bit bad for walnuts, since they are bitter and gross—clearly the worst of the mainstream nuts (EVEN YOU KNOW IT'S TRUE, WALNUT COMMISSION). So it's nice to see them getting some good press. You go, walnuts.
Photo credit: Dionisvera / Stockfresh.