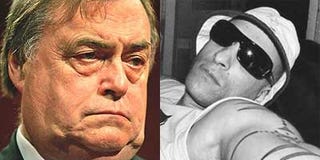 The revelation that former British Deputy Premier John Prescott was a raging bulimic who liked to wash five-course banquets down with a few cans of Carnation sweetened condensed milk, and a Big Mac takeout Lo Mein chaser reminded me of ...well, it reminded me how happy I am to have shaken some old habits because I was always terrible at puking, but it reminded me of a topic I have been wanting to discuss for awhile now: At Some Point Men Started Having Worse Eating Issues Than Us. From Prescott to this guy I know who just got one of those incomprehensibly huge book advances to write a memoir about his "andgoyny" i.e. manorexia to at least three out of four of my ex-boyfriends, eating disorders are officially a Dude Thing, and I'm glad we're coming to terms with this as a society because I am frankly sick of all those closeted manorexics thinking no one is onto them.
(The first rule of spotting a manorexic: he thinks people actually believe that metabolism shit, because he is a dude.
Fundamentally, compulsions surrounding the appetite are worse on men because they have bigger appetites. They also have bigger pants. Women, we eat half a box of cereal and maybe a few spoons of peanut butter mixed with Creamy Deluxe frosting and maybe half a can of Dinty Moore and we are like "oh my gosh I'm never eating again" and eventually that gets old but men can really make an achievement out of this shit:

WHAT PREZZA WAS EATING...
DAILY GUIDELINES FOR MEN
Calories 2000. Fat 70g, carbohydrate sugars 90g, salt 2.4g
CARNATION MILK - 397g TIN Calories 1290. Fat 31.8g, carbohydrate sugars 221.5g, salt 0.4g
M&S TRIFLE - 500g Calories 825. Fat 41.5g, carbohydrate sugars 71.5g, salt 0.55g.
LEMON CHICKEN Calories 1400. Fat 13g, salt 700mg
BEEF SATAY Calories 760, Fat 40g, salt: 650mg
SWEET AND SOUR PORK Calories 410.
Fat 30g, salt 350mg
CRISPY DUCK - 650MG Calories 800. Fat 40g, salt 650mg
CHOCOLATE - 230g BAR Calories 1207.5. Fat 68.54g, carbohydrate sugars 130.4g, salt 0.207g
DIGESTIVE BISCUITS - 500g Calories 2355. Fat 106.5g, carbohydrate sugars 83, salt 2.5g CRISPS - 34.5g
PACKET Calories 530. Fat 11.7g, carbohydrate sugars 0.2g, salt 0.5g
Meet your maker, Tinsley Mortimer. Oh, and that reminds me: do any of you people with eating disorders sort of blame your dads? My mom was way too sensitive to enable that shit.
John Prescott's Secret Big Mac Binges [Mirror]
Huge Book Deal For Jon-Jon Goulian [Observer]