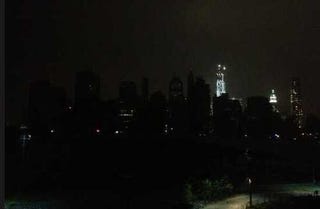 There are currently 8 million homes in 18 states along the eastern seaboard that are without power. I'm guessing the main thought on everyone's mind is, "When do we get that amazing electricity shit back? My hot pockets are turning into enormous beds for germs!" Ok, maybe that's just me, but I don't think I'm alone.
ConEd tweeted that it'll be four days until people who use underground equipment get power — and at least a week before customers served by overhead power lines are back to normal-ish. Just FYI, if you didn't know where your power lines are, you are not an idiot, and Lower Manhattan is underground.
However, President Obama is on the case so maybe it'll be faster? Cooommme on, Obama!
"The President also commended the dangerous and exhausting work being undertaken by the lineman and utility workers on the front lines in the field, repairing downed power lines and conducting other important tasks," the White House said.
Of couse, safety is number one, and my hot pockets are number two, so fingers and toes crossed a million times.
[photo credit Alana Newhouse]