Some feuds develop slowly, over the course of many, many moons. You see the temperature between two people—people who often begin as friends—rise until it reaches its feuding point. The lid pops off, the relationship boils over, and we all saw it coming.

Other feuds—arguably the more entertaining ones—appear without warning, like a Beyoncé album or a Best Picture Oscar for Spotlight. You're left dumbfounded, but blissful, as I was when Dustin Lance Black tweeted this early Monday morning:
If this tweet doesn't immediately make sense to you, allow me to provide some context.
While accepting his Oscar for the decade's worst nominated song last night, Sam Smith (who apparently thinks researching what you say to an audience of 50 million people is a waste of time) suggested he was the first openly gay person to win an Oscar. He's not, though. Not by a long shot! Though Smith attempted to correct himself later, saying he thought he was the "second" openly gay Oscar winner (you're honestly going to stand there as a gay musician and forget Stephen Fucking Sondheim and Elton Fucking John?!), the damage had already been done. And by the time everyone was several bottles deep into their after party celebrations, openly gay Oscar winner Dustin Lance Black began what is now the early frontrunner for Best Feud of 2016.
G/O Media may get a commission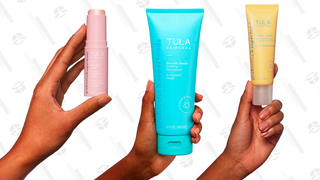 Black, who won an Oscar for writing 2008's Milk, sent Smith a video of his acceptance speech, as well as a suggestion to stop texting his fiancé, Olympian swimmer Tom Daley.
Mr. Daley, if you read this, I'd appreciate some screenshots of every text from Sam you received after 2:00 AM this morning.
[Twitter]
---
Erin Heatherton, one of Leo's model ex-girlfriends, is super proud of him.

Imagine being Erin's friend today and having to listen to her repeat things like, "Ugh, I'm just so proud of him. He really deserves it. I hope he responds to my texts soon. I'm just, ugh, I'm just so happy! He's such a good guy. Should I text him again or no? No? He's so busy and talented."

[Page Six]
---
---
Contact the author at bobby@jezebel.com.