With an adult filmmaker planning a film about Jaycee Dugard, and Donald Trump suggesting that Carrie Prejean make some money off her sex tape skills, we're starting to wonder if there's any prominent woman who hasn't been approached for porn.
Dugard is probably the most upsetting possible subject for a headlines-to-bedroom transformation, especially since Shane Ryan, who wants to make the film, is also responsible for one titled Amateur Porn Star Killer. He makes the ridiculous statement that, "We're trying to figure out a way to do that so it's not exploitative." A spokesman for the Dugard family called the proposal "exploitative, hurtful and breathtakingly unkind," which sounds about right. But Ryan's idea, though gross, isn't unique.
Donald Trump, who both championed Carrie Prejean's tenure as Miss California and called her racy photographs "lovely," now says, "Maybe, she should become a major porn star, make millions of dollars, and give it to worthy causes." While his suggestion that she give her profits to charity is sort of touching — maybe she could choose Lambda Legal — it's still annoying that he assumes a porn career is the logical next step after making a private sex video. Of course, even those without sex tapes in their past are vulnerable to porn suggestions and unauthorized depictions. Octomom Nadya Suleman was offered $1 million to star in a porn movie, and who can forget Who's Nailin' Paylin?
There wouldn't be anything wrong with Prejean or Suleman choosing to do porn on their own but it's a little depressing that when a woman inadvertently becomes famous — even if her fame comes from a horrific multi-year imprisonment — others move so quickly to turn her into jackoff fodder. Probably when it comes to porn the, um, heart wants what it wants, and maybe the demand for adult films starring or depicting famous women will always be strong enough to keep people like Shane Ryan afloat. Still, there's an element of institutionalized sexism in the idea that women who become well-known — and who meet a certain standard of conventional attractiveness — must also become objects of mass sexual fantasy. Of course, Carrie Prejean and Nadya Suleman have sought the media spotlight, directly or indirectly, but Jaycee Dugard never did, and the fact that someone is even considering pornifying her story hints that there might be something screwed up about what Americans find hot.
G/O Media may get a commission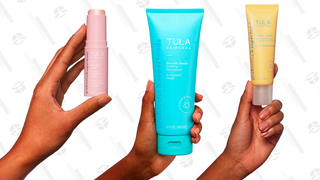 Report: Adult Filmmaker Plans Jaycee Dugard Movie [Silicon Valley Mercury News]
Carrie On, Then [New York Post]
Dugard Spokeswoman Blasts Plans For Film On Case [AP]
Earlier: Dugard Family Responds To Film Proposal • Runners World Didn't OK Use Of Palin Picture