Welcome to the future, horndogs: Dutch designers have invented a dress that incorporates biodynamic fabric that aims to render visible the wearer's innermost thoughts. Parts of the dress turn transparent when the wearer's heart rate rises. Ladies, the dress flirts for you. Holy unequal gaze, Foucault! Now, what we want to know is: who's going to invent the dress that waits in line at the post office for you? The dress that repeats your problem to the five different CSRs your call is transferred to before reaching the person who can actually help? The dress that scoops the cat box? Flirting we can handle, frankly. If some dress is going to manage an experience for us, we want it to be a dumb one. [Fast Company]
---
This is Madonna's first women's perfume — it's to be called Truth or Dare, after her newly announced clothing brand. Madge calls the scent "classical and timeless and yet modern, blah blah blah, which will also make me simply oodles of cash, darling." Okay, so she didn't actually say that last part out loud, but you know she thought it. [WWD]
---
G/O Media may get a commission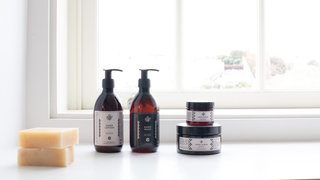 Exfoliate and Hydrate
The Handmade Soap Company
And this, friends, is Katy Perry's second perfume. It's called Meow. Compared with her first effort, Purr, Perry says, "Meow is a little bit more sweet. It was probably because of the California Dreams tour that it was more of the confectionary world, because everything I've seen for the last year has been like cotton-candy scented or huge peppermints or massive gummy bears." [WWD]
---
Emily Blunt's Yves Saint Laurent Opium perfume ads are out. Patrick Demarchelier was the photographer. [FGR]
---
"Good evening, America. I'm Chloé Sevigny. It has recently come to my attention that I am on the cover of a magazine called Candy, dressed up as Terry Richardson. Isn't this wonderful?" [Buzzfeed]
---
Virtually every top-level Vogue editor on earth converged on Tokyo for a Fashion's Night Out-type event intended to stimulate the local retail sector, which is still struggling after the earthquake and the nuclear disaster. This group portrait was taken. [WWD]
---
It was Anna Wintour's 62nd birthday yesterday, so Fashionista 'shopped together this collage of 62 photos of the editor wearing her signature sunglasses. Wintour has been in charge of American Vogue for 23 years; her first issue was published in November, 1988. [Fashionista]
---
Martiniquais model Cora Emmanuel — like her compatriot, Jezebel fave Selina Khan — sounds like she has her head on straight in this interview. Emmanuel says that she didn't want to enter the contest that launched her career, the Elite Model Look competition — but her mother made her because she thought it would give her daughter confidence. "I thought modeling was all about showing yourself and that just wasn't for me. I thought it was really stupid, but my mother forced me to do it. I remember I was coming out of my piano lesson with my normal clothes and hair; I didn't dress up at all and I just went." [The Cut]
---
As the trend for (mostly loosely) Navajo-inspired clothing and accessories continues, one of the first people to show actual Navajo textiles in a museum context has died. Mary Hunt Kahlenberg was a curator at the Los Angeles County Museum of Art in the 1970s when she organized "The Navajo Blanket," a groundbreaking 1972 exhibit that was the first time Native American weaving had been shown as fine art at a major museum. "The Navajo Blanket" was so popular it travelled to numerous other art museums in the U.S. and around the world. Kahlenberg was 71. [NYTimes]

Both Prince and Nicki Minaj will be performing at Tuesday's launch party for the Versace for H&M collection, for which our invitation sadly seems to have been lost in the mail. [WWD]

Eva Amurri and Susan Sarandon had their wedding and mother-of-the-bride dresses made by Lela Rose. The dresses are different colors, but share similar lace elements at the collar. Brioni made Amurri's husband's tux. [People]


Tavi Gevinson is going to give a TED talk. [Broadway World]

Daphne Guinness says she's working on a novel. "Writing is a funny thing," she said at an event at the Museum at FIT, where a show dedicated to her wardrobe is currently on display. "It's not like you're working on a schedule. It comes in fits and starts. It will be ready when it's ready. I've just got to get it right so that it will be as good as it can be." Asked what the novel will be about, and whether it will be autobiographical, Guinness replied, "Well, it's not about beetles. It will be about what I've observed or imagined. Frankly, I'm not Winston Churchill or another public figure. I don't think anyone would be particularly interested in my observations." [WWD]

Alexa Chung says she doesn't follow trends. "I think people make them up, and then they say, 'Oh yeah, yellow's really in this season.' Sometimes there are obvious trends, but there aren't any at the moment I can think of. Are there? It's bullshit. Trends are a lie magazines make up so you feel like you have to buy something." [Styleite]

Tom Ford did an event at Bergdorf Goodman for his beauty collection and reportedly sold $52,000 worth of slap in one night. [WWD]


There's a rumor that Victoria Beckham is going to add children's wear to her eponymous clothing company. [Marie Claire UK]

Roland Mouret is expanding into footwear and bridal wear. In exchange, the company will put the MR men's wear brand it launched last year on hiatus. [WWD]

The Edith Head dress Audrey Hepburn wore when she won her Oscar will be auctioned off later this month. It's expected to fetch £40,000-£60,000. [Telegraph]


Quarterly profits at Estée Lauder rose 48.5% compared with the same period last year, to $278.6 million. [WWD]

Hermès' sales in the quarter just ended rose 16%, to $967.2 million worldwide. [WWD]

And now, a moment with Victoria's Secret Angel Candice Swanepoel, who is not single. But that doesn't stop the wannabes from trying it on:

"I think it's harder to date as an angel, when people meet you it's hard to look past our job, what we look like. They are always trying to impress you, you know, like 'come to my mansion blah blah blah.'"