If you've noticed an extra spring in the steps of your local drag enthusiasts these past few weeks, it may have something to the release of a special edition Barbie doll designed by the Blonds (David and Phillipe), a famous NYC fashion duo known for their opulent designs (they've dressed the likes of Lady Gaga, Beyonce and Katy Perry) and their involvement in drag culture.
The Blonds' Barbie (officially known as The Blonds Blond Diamond Barbie) — which sports a bejeweled mini dress, a full length fur coat, Veronica Lake hair and dramatic makeup — has quickly been dubbed Drag Queen Barbie, thanks largely to her resemblance to co-creator Phillipe Blonde's own signature drag look. As Drag Race champion Sharon Needles tells the Daily Beast, "Had I not known Phillipe Blond had designed it, I would've said that Mattel ripped off Phillipe. It rings true to his sense of design and personal style."
While several mainstream media outlets have reported on the doll and adopted the moniker "Drag Queen Barbie," both the Blonds and Mattel are denying that this edition of the beloved doll was ever intended to be anything beyond a glamorous Barbie girl in a glamorous Barbie world.
From the Daily Beast:
The Blonds and Mattel never intended for the new Barbie to be a drag queen. The partnership between the Blonds...and the toy manufacturer began when the partners were among the 50 designers to create a look for the 50th anniversary Barbie Runway Show at Mercedes-Benz Fashion Week in 2009. The collaboration went so well that Mattel commissioned Phillipe and David to design a new collector's Barbie this year.
"It's a surprise to all of us," David says. The goal was to create "an outfit so over the top that she wouldn't have it in her closet," he says. "It was never Drag Queen Barbie."
G/O Media may get a commission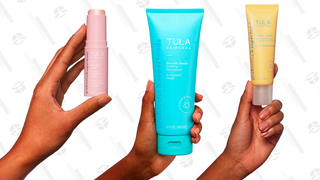 While Mattel and the Blonds may have never intended to market and sell a Drag Queen Barbie, that is exactly what they're doing — and doing well. The doll is on backorder until the end of the year.
Mattel's Buzzy New 'Drag Queen Barbie' Is No Cross Dresser [The Daily Beast]