It's easy to go wrong with a show about a talking dog who's obsessed with his owner, but somehow ABC's new summer sitcom Downward Dog—which, told through the narration of a dog named Martin, is about precisely that—might be the sweetest and most tender sitcom to debut in years.
The show—which debuted two weeks ago—stars Allison Tolman (Fargo), Lucas Neff (Raising Hope), and an expressive rescue dog whose real name is Ned. Voiced by series creator Samm Hodges (who also made a webseries of the same name), Martin the dog speaks only directly to the audience, allowing us to know his motivations and desires in a way that his owner Nan (Tolman) can only ever guess. His monologues are driven entirely by his canine understanding of relationships: To him, he's Nan's entire world, just as she is his—even though her ex boyfriend Jason (Neff) keeps getting in the way.
When Nan goes to work, a human activity that Martin can't wrap his mind around, he opines, "I don't want to come off as, like, hypercritical or anything, but we used to go on walks. Like actual walks. Whereas now, she just shoves me out into this little prison yard and acts like that somehow counts as connection time."
He continues:
"It's one thing that she's just gone all the time. If I felt like she was doing anything remotely productive, it would help me be supportive as her partner, but every morning I see her get into her car and when she comes home, she's in the exact same car. Like, I get that it's fun to just drive around all day. Yeah, I would love that, too. I've actually made that pretty obvious. And I'm aware that these are kind of 'first world problems' or something because yeah, Nan's great. I'm actually honestly deeply obsessed with her. It's just...I just think we have a little work to do."
Similar to human roles like Vince in The Mighty Boosh or any Zac Efron character to appear in a comedy over the past few years (Baywatch, Neighbors, Neighbors 2), Martin is so egocentric that it suggests an endearing child (or dog)-like innocence instead of an unappealing selfishness. When Nan installs a dog door in the second episode, for example, Martin, instead of feeling thankful for her efforts, assumes he's developed psychic powers. "I think I just opened a portal with my fucking mind," he says. As for the cat (voiced in Martin's nightmares by Maria Bamford) that taunts him outside the window every day, Martin warns, "Not to be racist, but she's just a sociopath, like, an emotional terrorist." Later, he lovingly refers to obedience classes as "couples' counseling."
The series, an effort years in the making, was a tough sell to networks and will likely be a tough sell to audiences, particularly for viewers who—unlike me—aren't immediately inclined to like anything dog-related. But ultimately, or at least in the first couple episodes, Downward Dog transcends the lines of species and becomes, simply and beautifully, a heart-melting show about love and loyalty (be it between Nan and Jason, Nan and herself, or—most importantly—Nan and Martin).
G/O Media may get a commission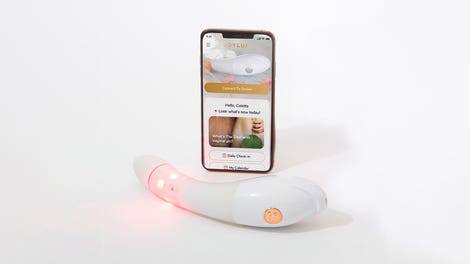 $50 Off
Joylux vFit Gold Device
Downward Dog airs Tuesdays at 8/7c on ABC.