Despite what you may have heard from the Circle Jerks, Rick Ross and the insistent warbling of Ke$ha, not all pop stars live by the motto "die young." But a study looking at the careers of 1,400 rock and pop stars — famous between 1956 and 2006 — found that solo artists were twice as likely to die prematurely when compared to those in bands.
The study ran through February 2012, at which point 137 performers had died early deaths. As Anna-Marie Lever writes for BBC News, "Experts suggest that peer support from band mates may be protective." And:
The average age of death was 39 years for European stars, with those from North America being six years older on average.

Solo performers were about twice as likely to die prematurely compared to those in a band, irrespective of whether they were European or Northern American.

And while the chances of a European solo artist dying young was one in 10 - it was double that for American solo artists at one in five. The authors speculate this may be due to longer tours in North America plus variations in access to health care and exposure to drugs.
Honey Langcaster-James (excellent name, btw), a psychologist who specializes in celebrity behavior, told Lever: "Solo artists in general approach life in a solitary manner — deliberately choosing to go it alone." She pointed out that being surrounded by paid employees you don't necessarily trust adds stress; as does constant travel, away from friends and family. "Even for the general population, psychology research has found that people with support have increased lifespan," she added, "and those in a band may benefit even more from this — they are all in the same boat." Makes sense. Having folks around you who know the real you, who knew you when, who can relate to what you're going through and who you (hopefully) trust is an important ingredient in the recipe for a fulfilling life, no matter what your career.
There are always exceptions — Kurt Cobain, Sid Vicious — and no one's saying Tupac and Biggie should have joined Boyz II Men. (Although…) But if you need a new reason to argue why the Mary Jane Girls, Destiny's Child, or the Spice Girls should reunite, well, Merry Christmas.
G/O Media may get a commission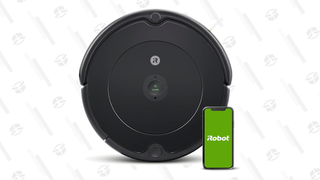 35% Off Black Friday Deal
iRobot Roomba 694 Robot Vacuum
Early death 'more likely in solo artists' [BBC News]