The ostensibly "explosive" White House tell-all The Obamas came out this week and CBS just debuted a new morning show, so it's the perfect time for an exclusive sit down interview with Michelle Obama.
The First Lady tells Gayle King that she hasn't read the book by New York Times reporter Jodi Kantor and doesn't intend to, but she was willing to answer quite a few questions about its contents. Obama denies that she had a contentious relationship with several White House staffers, saying of the claim that former Press Secretary Robert Gibbs once cursed her at a meeting, "He's been a good friend and remains so." While former White House Chief of Staff Rahm Emanuel seems like the kind of guy who's picked a fight with everyone he comes into contact with, Obama says their relationship has always been good. "Rahm is — and Amy, his wife, are some of our dearest friends," says Obama. "Rahm and I have never had a cross word. He's a funny guy."
Overall, Obama does a masterful job of shutting down any stories about her being some kind of lamp-throwing banshee rampaging through the West Wing:
I guess it's more interesting to imagine this conflicted situation here and a strong woman — you know? That's been an image people have tried to paint of me since the day Barack announced — that I'm some angry black woman.
G/O Media may get a commission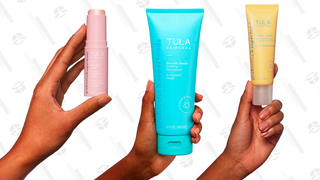 So what's her strategy? "I just try to be me and my hope is that over time, people get to know me. And they get to judge me for me." So if you think of the First Lady as a classy, J.Crew-clad delight, that's probably pretty accurate.

Michelle Obama: No Tension With Husband's Aides [CBS]
Earlier: Not Even an 'Explosive' New Book Can Make the First Lady Seem Unlikable