At twelve, Donatella had her first highlights— "'Lighter and lighter and lighter,' I told them!" she recalled. At fourteen, she was suspended from school for wearing eyeliner to rival Cleopatra's; by sixteen, she was a platinum blonde.
This chronology is courtesy of writer Lauren Collins, who, in this week's New Yorker, offers up a strangely moving portrait of designer Donatella Versace. Yes, of course, as Collins aptly points out, there are the elements of the perverse surrounding the designer and her famous family — as Collins puts it, "When was the last time you saw a pubescent boy on YouTube impersonating Donna Karan?" — but there is also something charmingly vulnerable about a group of individuals so enmeshed in its own over-the-top fantasy world. (During a earthquake, relates Donatella's ex-husband, the designer called out for her face creams. She also travels with her own furniture so she can bring her home with her everywhere.)



It seems, however, that it is a lifetime of loss as much as a life lived among luxury that created the woman known as Donatella Versace. Collins tells us that Gianni wasn't the only Versace child to have died a premature death: The eldest child, Tina, died before Donatella was even born. (Knee-scrape. Tetanus. Almost-instant death.) Says Donatella on the 10th anniversary of her older, more-famous brother's death:
What happened to him, you know, this is a tragedy. He die, he's not alive anymore. This is really the worst thing that can happen to you, to lose your life. So I say to myself, 'You're going to make it. Grow up, you're a grownup here, you can do it.'
The designer is also unexpectedly earnest about her now-notorious addiction to cocaine.
You know, you think you're in control, and you try to stop, but you're not. What happened was I was in a severe depression. I start to isolate myself from everybody, and I would see my children suffer seeing my life that, but I didn't have the strength to talk about it....Elton [John] said, 'Donatella, you know what, we're not forcing you, but you need to go to rehab. There is a plane waiting for you.' But I say yes. I was ready. I had no idea what rehab was, but I left that night.
G/O Media may get a commission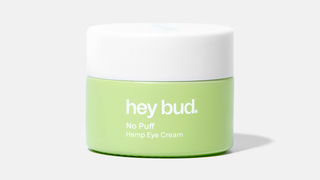 15% off
Hey Bud - No Puff Hemp Eye Cream
Lindsay, Paris, Britney: Take note, ladies, Donatella Versace is what celebrity salvation just might look like.
Mondo Donatella [New Yorker]