Donald Trump is in the news again for sparking yet another celebrity feud, this time with Cher. The singer made a comment last week on Twitter about his friend Mitt Romney, saying, "If ROMNEY gets elected I don't know if I can breathe same air as Him & his Right Wing Racist Homophobic Women Hating Tea Bagger Masters." Instead of responding directly to her claims, Trump instead insulted Cher's face by Tweeting, "@Cher should stop with the bad plastic surgery and nasty statements about good people running for office." Sadly, Trump has a long history of distilling his public disagreements with women down to a denigration of their physical appearances.
Glomming onto Cher and Romney's Twitter dispute that had nothing to do with him wasn't some reckless mistake. The Celebrity Apprentice finale airs on Sunday. He needs the press. Trump has perfected the art of the celebrity feud, starting trouble with anyone for any reason and then going on a publicity tour with his verbal tirades, making the rounds of Entertainment Tonight, The Insider, Access Hollywood, and Fox and Friends and using the airtime to promote his other business, entertainment, or misguided political ventures. It's a little slimy and very savvy.
While his reasons for sparking public rivalries with other famous people are about as transparent as his combover, they aren't the problem. The trouble with Trump is the hostility he reserves for the women he doesn't like, basing his insults and jabs largely on their looks, weight, and sex lives. The most notorious of these was his 2006 battle with Rosie O'Donnell—a fight that was such a media shitstorm that, six years later, he continues to dredge up when he needs some attention. Responding to her comments on The View about his defense of Miss USA Tara Conner, Trump called O'Donnell a "fat pig" and an "animal" to basically anyone who would listen, from reporters to late night talk show hosts. The worst of it was probably a two-minute rant he filmed for Entertainment Tonight that was so vile, the show decided not to air it on television. The footage, however, made its way to YouTube (to left):
Rosie O'Donnell is disgusting—both inside and out. If you take a look at her, she's a slob. How does she even get on television? If I were running The View, I'd fire Rosie. I'd look her right in that fat, ugly face of hers and say, 'Rosie, you're fired.' We're all a little chubby but Rosie's just worse than most of us. But it's not the chubbiness—Rosie is a very unattractive person, both inside and out.
These low-blow tactics of his are specific to women only. In recent years, when Trump has publicly gotten into it with the likes of Dan Rather, Ron Paul, and Mark Cuban he made no mention of their physical appearances. Even when he briefly feuded with Charlie Sheen—another man who has a terrible track record of his treatment of women—a man who actually looked like death warmed over after a series of scary drug benders took his teeth, Trump described him only as "a great waste of talent." That isn't to say that Trump should've gone after Sheen's physical appearance. It's just worth noting that he did not.
G/O Media may get a commission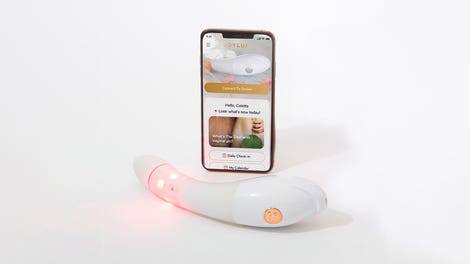 $50 Off
Joylux vFit Gold Device
Trump's harsh worlds for O'Donnell were not his first or last sexist remarks when feuding with women. Making a big splash in the business world in the '80s and an even bigger splash on the front pages of tabloids in the '90s for cheating on his first wife (Ivana) with a woman who would become his second wife (Marla), Trump was pretty dormant at the turn of the century, until his competition-based reality show The Apprentice premiered on NBC. Since then, we've been able to actually witness his interactions with women on the show, that somehow always include comments about the women's attractiveness. But even when he's intending the remarks as complements, there is still an undeniable focus on female beauty in the boardroom. It's an overt example of his double standards and how he inherently treats women differently than men. In 2005, he told one female contestant, "I bet you make a great wife." In 2010, another female contestant on the show, Mahsa Saeidi-Azcuy, detailed Trump's sexism to the New York Post:
So much of the boardroom discussion concerned the appearance of the female contestants—discussing the female contestants' looks—who he found to be hot. He asked the men to rate the women—he went down the line and asked the guys, 'Who's the most beautiful on the women's team?'
Gene Folkes, a male contestant, backed up Saeidi-Azcuy's claims, saying:
I think it was most uncomfortable when he had one [female] contestant come around the board table and twirl around.
In 2004, when the women of The Apprentice were featured in a sexy spread for FHM, Trump supported their business decision to do so, saying:
These women were hired because of their great intelligence. But they also turned out to be beautiful, and that's not so bad.
Later he said:
All of the women on 'The Apprentice' flirted with me—consciously or unconsciously. That's to be expected.
And his dealings with celebrities on the show have been just as clunky. In 2011, on Celebrity Apprentice, Trump joked about how Star Jones used to be fat. He later invited Audrina Patridge to be on the show based solely on her beauty. This season, he interrupted Aubrey O'Day as she was speaking about the task to say:
You look very good, Aubrey, I have to say. Do you mind if I say? Is that sexist?
She giggled. But when Arsenio Hall later called her a "cunt" and talked about seeing pictures of her on the internet in a bikini with her "gut hanging out" he was not fired. Instead, Aubrey was fired, and Arsenio made it to the final two.
Perhaps one of his weirdest targets was Angelina Jolie. In 2007, Trump told Larry King on his CNN show that he didn't appreciate her falling out with her father Jon Voight. That, apparently, warranted some comments about her face, which is universally believed to be beautiful:
Angelina Jolie is sort of amazing because everyone thinks she's like this great beauty. And I'm not saying she's an unattractive woman, but she's not beauty, by any stretch of the imagination. I really understand beauty. And I will tell you, she's not—I do own Miss Universe. I do own Miss USA. I mean I own a lot of different things. I do understand beauty, and she's not.
He's speaking of "The Trump Rule," which Miss USA contestant Carrie Prejean wrote about in her book, and Jezebel founder Anna Holmes expounded upon in a Washington Post column:
She detailed the Miss USA pageant's requirement that contestants parade in front of pageant co-owner Donald Trump so he could separate those he finds sexually appealing from those he does not.

"Many of the girls found this exercise humiliating," Prejean wrote. "Some of the girls were sobbing backstage after [Trump] left, devastated to have failed even before the competition really began . . . even those of us who were among the chosen couldn't feel very good about it—it was as though we had been stripped bare."
In 2011, Trump practiced his "Trump Rule" on New York Times columnist Gail Collins:
During one down period, I referred to him in print as a "financially embattled thousandaire" and he sent me a copy of the column with my picture circled and "The Face of a Dog!" written over it.
It's frequently about appearance with Trump, but not always. He also thinks that women are shallow gold diggers who are motivated by money alone, like in 2008 when he went after Anne Hathaway after she broke up with Rafaello Follieri, who had been arrested for stealing millions of dollars from people.
So when he had plenty of money, she liked him. But then after that, not as good, right?
Perhaps his most egregious example of his sexism took place last month. Part sexual harassment, part pro-wrestling theatrics, Donald Trump lashed out at attorney Gloria Allred, who was representing the transgendered woman who had been disqualified from competing in the Miss Universe pageant. He called into TMZ and offered to show Allred his genitals saying:
I think Gloria would be very very impressed with [my penis].
Trump's ego is a lot bigger than he claims his dick is. For someone who has such an investment in female beauty, he's extremely unattractive. Obviously, even if he were conventionally handsome his comments about women would still be sexist. But his appearance— the ridiculous spray tan and the complicated arrangement of hair to mask some balding—is so cartoonish that it serves as more evidence of his irrational double standards about the valuation of a person based on looks.
Trump's estimation of what makes him attractive, however, is at the very least honest:
The beauty of me is that I'm very rich.