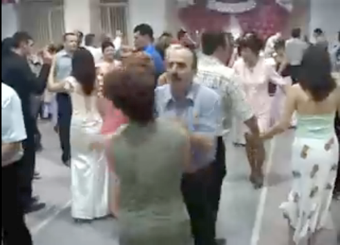 I tuned in to the new show Tosh.0, which is essentially The Soup with internet clips instead of television clips, and was turned off when they insisted on replaying a clip wherein a man smacks his wife—hard.
The clip, which I'm posting here as it's relevant to the story, not because I think it's funny at all, features a couple dancing at a wedding. When the wife misses a dance move, the husband takes the opportunity to smack her across the face, twice. Eventually a friend steps in, but the scene, as I see it, anyway, is pretty damn disturbing. The internet, naturally, thinks it's hilarious. There are several versions of the clip on YouTube; the clip itself is over 3 years old but thanks to Tosh.0 seems to be back in the public eye, with over 40,000 hits on this version alone:



Look- I'm not surprised that this is popular online, nor am I surprised that Comedy Central decided to show it for its "hilarity" factor, but when a video like this is held up on a comedy network for being "funny," doesn't that send the message that violence against women is also pretty funny? That it's something that can be shrugged off simply because it happened to be a drunk guy at a foreign wedding smacking his wife on the dance floor? If that had happened at a wedding here, with an American slapping his girlfriend twice across the face, would people still be laughing? There's a creepy sense of removal from this scene, as if distance and cultural differences make it hilarious when a man strikes a woman. This clip should be a document of domestic violence. Instead, it's just another way that the world is turning a blind eye and making a joke out of a very serious issue.