Ida Davidson claims that her weight fluctuates, and right now she is "a little overweight." But she did not expect to be turned away when visited her doctor. Davidson, who lives in Shrewsbury, MA, went to a new primary care physician — Dr. Helen Carter — and was informed that the doctor would not accept her as a patient. According to WCVB, Dr. Carter has recently implemented a policy of turning away folks who are heavy:
"After three consecutive injuries (with other patients) trying to care for people over 250 pounds, my office is unable to accommodate a certain weight and we put a limit on it," Carter said.
Dr. Carter did not specify the nature of these injuries, but noted that patients have alternatives: "There's an obesity center over at UMass that is much better staffed and has more resources than I do."
Dr. Carter's policy is not illegal, and WCVB points out:
The American Medical Association's Council on Ethics and Judicial Affairs policy reads "Both patients and physicians should be able to exercise freedom in whom to enter into a patient-physician relationship ... physicians do not give up their freedom of association by merely becoming professionals."
According to reports, at least half of American women wear dresses and pants size 14 or larger. There are lots of women over 200 lbs. in this country. Dr. Carter may have the right to turn away patients based on weight, but it seems like bad business. If she is interested in serving as a physician for a certain community, shouldn't she meet that community's needs? (And if people are being injured because her medical equipment is not up to snuff, then she needs new medical equipment.)
If you watch the video below, Dr. Carter says that since her policy was implemented, she's had "at least two people who have been very motivated." Meaning: To lose weight. But it sounds an awful lot like fat-shaming, and Ida Davidson seems to think that Dr. Carter just doesn't want to deal:
She didn't care about my health that day. I think she just cared that I was a liability to her, maybe. And too much work.
G/O Media may get a commission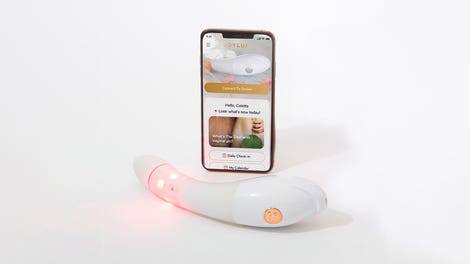 $50 Off
Joylux vFit Gold Device
Last year, it was reported that some gynecologists in South Florida were turning away healthy, non-pregnant overweight patients. In medical school, the motto is primum non nocere — first, do no harm. Isn't there psychological and emotional harm done when a doctor — someone you're attempting to have an intimate, deeply personal relationship with — refuses to examine you because your body isn't thin enough? What if a patient is turned away and is so humiliated embarrassed she avoids seeking medical attention?
Doctor won't treat anyone over 200 pounds [CNN]
Doctor refuses to treat overweight Shrewsbury patient [WCVB]