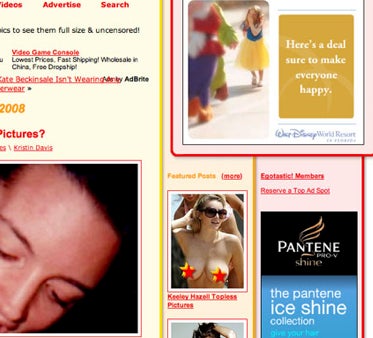 What's that banner ad getting the way of your Kristin Davis porn? Oh look, it's for Disney Resorts. Maybe you should take the kids this year! Anyway, this screenshot, and many more if you click, come to us courtesy the investigative journalism of the DrunkenStepfather, who found them surfing the putrid site Egotastic and emailed us with a typically inimitable missive (actually, you should click for that alone.) And to think we were just posting how great minds think alike! Enjoy!
The email:

You all know that I love you. I try to help you out where I can and I jerk off to your successes but when I saw a Disney Ad next to the Kristin Davis Blowjob pictures on Egotastic, I had no choice but to do a post. Reality is that I have no issue with his site, sure he's a virgin, but I love virgins, just ask my stepdaughter's friends.

I thought it was funny and newsworthy and hope you can link it because I am in the mood to get someone at Disney fired....I want to see this story on CNN so help.
And part of his post:

The most wholesome family corporation fucks up again. First, Walt Disney was caught molesting kids after taking them to his magic kingdom and showing them special cartoons he drew for them on his penis, true story my grandmother told me he did it to her. Then they made Nazi propaganda videos for Hitler to help kill the jews who were stepping on Disney's Waspy toes in Hollywoo. Then they were accused of subliminal messages in they movies trying to program kids to hate black people and gays and now they advertise next to porn.
Now, we should point out that these allegations are mostly untrue. Walt Disney produced anti-Nazi propaganda and led the anti-Communist effort in Hollywood, and the rest of it...well, it's the Drunken Stepfather. They have committed some evil.

I was scoping out some celebrity smut site that pretty much only posts celebrity nudity, sex tapes, nipple slips and upskirts next to some seriously desperate, virginal commentary and I was pretty shocked to see Goofy staring back at me.