The Dior couture show was very restrained, with almost no color. There were black dresses.

And purple dresses.

And lots of grey dresses.

G/O Media may get a commission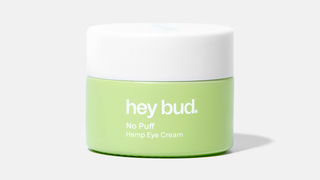 15% off
Hey Bud - No Puff Hemp Eye Cream
Like I said, lots.

The work that goes into these couture creations is immediately evident in the embroidery and hand-set pleats. The Times has up a wonderful behind-the-scenes slideshow, if you're curious; it's astounding to learn that not one of these 40 dresses was yet finished the day before the show.

Dior, as everyone knows, is still without a creative director, following the February, 2011, arrest of John Galliano for being a big, fat racist. "I love Hitler," slurred Galliano to two women in a café in Paris' historical Jewish quarter. "People like you would be dead. Your mothers, your forefathers, you'd all be fucking gassed." And then he did it again, to an Asian man and his Jewish friend. In the long search for a replacement, Galliano's work has been taken up by his former studio head, Bill Gaytten.

Gaytten's first sole-charge couture show was widely regarded as a giant mess, but this season his work has been greeted with admiration by most critics. Suzy Menkes wrote, "After a rigorous, correct and undeniably "Dior" show, this question must be asked: Is the elusive successor on the doorstep?" She called this collection
Technically persuasive: an x-ray image of the essence of Dior, from the famous Bar Jacket, sleek and chic in black alligator, to romantic dresses, light as the proverbial feather. One had a full skirt printed with Christian Dior's maxim, defining "elegance" as the right combination of crucial factors, including "naturalness and simplicity."

Neither was Mr. Galliano's forte and most fashion folk feel that the former designer would, in any case, have had to calm his excess to take the brand ahead.
But to my eye there's something a little bit rote about these clothes. Even Menkes admitted "there was not much personality or charm," and said the collection worked, at best, as "a careful rendition of the codes of the house." There's nothing wrong with these dresses — look at them, they're very pretty, and beautifully made — except that they're a bit boring. Couture is unique within fashion in that it doesn't strictly speaking need to break even — maintaining the Paris atelier and producing the number of samples required for couture certification by the Chambre Syndicale alone is cost prohibitive, and the clientele for $70,000 dresses is as small in number as ever, so the houses that show couture are consequently not houses that need to make money from it. The houses that indulge in couture shows are mostly broad-based brands with ready-to-wear, handbags, shoes, scarves, sunglasses, and perfumes — at the very least — that all are pitched to reach the biggest number of possible customers in the biggest possible markets.
Many of these Gaytten dresses are wearable, but couture doesn't need to be wearable: it needs to get the brand a bit high on the oxygen of publicity. It needs to really excite people. A good couture collection captures the public imagination, so that one day, maybe months from now, a woman who once saw a photo of a dress so beautiful that it made her heart soar, just a little, to look at it will be in a department store or an airport duty free, where she will pick up a lipstick, notice it says "Christian Dior," and buy it even though it's four times the price of the identical drugstore color. Couture is a company's best creative showcase, its loss-leader technology, its "wow" moment. These dresses are very nice, but does any one of them say wow?