A few months ago, Kelly walked into the office and handed me a stack of old TV Guides from 1985, hopeful that I'd find something worth writing about inside them.
As I'd expected, its ads were the most immediately amusing parts. Not long ago—before everyone had thousands of on-demand entertainment options at their disposal—you chose between a handful of networks who competed with each other, in part, by placing ads in The Guide. Would you watch Jessica's "night at the theatre" on Murder, She Wrote, or the nuclear war-themed TV movie Threads? Sins of the Father or Gulag? Charles in Charge or Highway to Heaven?

On Monday, January 14, 1985, you had a very special option—the American Playhouse adaptation of James Baldwin's novel, Go Tell It On the Mountain. But in addition to the small quarter-page ad for its premiere, TV Guide provided an extra bit of promotion in the form of a short essay by Baldwin about writing the novel and adapting it for television.

Because it is a promotional piece for a show, Baldwin writes things like:
"When [producer] Bob Geller and I talked about this film, years ago, in Hollywood, I really did not believe that it would be done in my lifetime. I could not have imagined that he could assemble such a cast, been responsible for such a script, taken so delicate and subtle a director, or have found a way to convey, so powerfully, so much that is not stated."
G/O Media may get a commission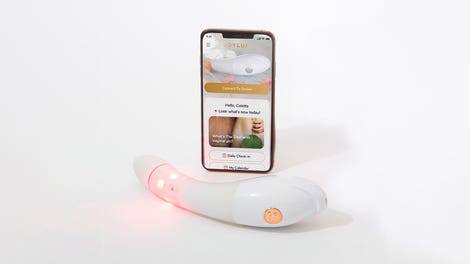 $50 Off
Joylux vFit Gold Device
But because it's James Baldwin, you also get things like:
"Hatred is sentimentality raised to its highest, most suicidal pressure. Whatever else hatred may or may not reach or destroy, it most certainly destroys the self."
And:
"People who can't get along with each other can't bear, simply, what they see in each other. Each, in truth, is paralyzed before a mirror. One can be released from this stasis only by confession. My Daddy didn't live to articulate his confession.

I did. Thank God."
Oh, and:
"Mountain comes out of the tension between a particular father and a particular son. No matter that he was not my biological father. He claimed me as his son. He gave me myself. I may not always like that self, yet here it is, and here I am, and I would not be here had it not been for him."
You won't find those in an essay collection. You'll find them in the Jan. 12-18 1985 issue of TV Guide—the one with William Devane on the cover.
David Sendler, TV Guide's National Editor at the time Baldwin's essay was published, resigned in 1989, after Rupert Murdoch bought the magazine and made a "dramatic change" in its direction.
Wrote The LA Times that year:
Publicly, Murdoch had made assurances that he would not change TV Guide when he bought it and parent Triangle Publications last November for $3 billion.

But on the day he took over, according to insiders, Murdoch privately told management that he thought TV Guide was "too cerebral" and set out to change that.