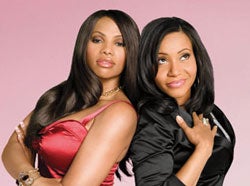 We're really psyched about the premiere of The Salt-N-Pepa Show coming up in two weeks on VH1. It should be interesting since Salt (Cheryl) and Pepa (Sandy) had a falling out — due largely in part to Cheryl's new-found spirituality and unwillingness to perform the duo's racier material — and haven't spoken to each other very much in the past five years. But there's something else different about the girls, namely, Sandy's nose. She's looking decidedly Jackson-esque. Another shot after the jump.
Total LaToya, right?
The pair's reality show has the potential to be intense, since they're really putting their issues with each other out on the table. When asked about their breakup and dissolved friendship in an interview, they said:
Salt: I still wanted to be friends, but...

Pepa: I was mad.

Salt: She was bitter.

Pepa: (Laughs) I'm still...not mad. But this is, to me, therapy. I'm trying to work through it. Because I held a lot in.

Salt: She's still a little mad.


Let's Talk About Salt-N-Pepa (The Celebreality Interview, Part 1) [Celebreality Blog]
Awkward!