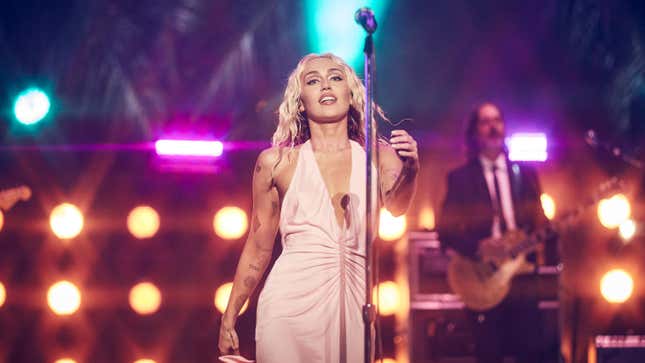 Looks like Miley Cyrus is "just bein' Miley"…meaning she's potentially releasing music under a secret pseudonym again!

Taylor Swift's Rep Thinks You Need to Calm Down About Her Private Jet
According to Rolling Stone, a number of TikToks have unearthed a 12-track album titled Down with Me released under the name Clara Pierce. The album was uploaded to Spotify on March 10—the same day as Cyrus' eighth studio album Endless Summer Vacation. And fans are convinced the songs, which sound uncannily like Cyrus' distinctive voice, are a bundle of Cyrus' unreleased demos.

The mysterious Clara Pierce has just 250 monthly listeners on Spotify, though Down with Me has since been removed from the service (but it's still available on Apple Music and YouTube). TikTok users pointed out that the album is littered with references to Miley's personal life, including one song which point-blank says her name several times. The song "Sagittarius" (Miley is, of course, a Sagittarius) references a single from Cyrus' album She Is Coming ("I told you once before, I'm my Mother's Daughter"), while another track is titled "See You Again," mirroring Cyrus' 14-year-old single. And on Apple Music, some fans pointed out that after listening to Clara Pierce, the algorithm suggested Cyrus as a similar artist. (Representatives for Cyrus did not respond to Rolling Stone's request for comment regarding the album.)

Some fans have speculated that the songs on the Pierce album may have been part of the unreleased album She Is Miley Cyrus, which was meant to be the follow-up album to She Is Coming. But Cyrus's Malibu home went up in flames in 2018, destroying both some of the physical music and the trajectory of her life. "Just when I thought the body of work was finished… it was ALL erased. Including most of the music's relevance. Because EVERYTHING had changed," she said, according to RS. "Nature did what I now see as a favor and destroyed what I couldn't let go of for myself. I lost my house in a fire but found myself in its ashes."

"Luckily, my collaborators still had most of the music that was burned up in journals and computers filled with songs for the EP series I was working on at the time," she continued. "But it never felt right to release my 'story' (each record being a continual autobiography) with a huge chapter missing."

It's possible that Cyrus wanted to put the songs into the world with the hopes of keeping them under wraps as a sort of cathartic release. But given the number of leaks now common in the music industry, it's also possible someone who had access to the demos uploaded them without her knowledge.

Clara Pierce, if you're out there, show yourself! Otherwise, we'll just assume Miley figured Hannah Montana was no longer cutting it as a cool or useful pseudonym. Funny to think most of us go through life with no pseudonyms and Miley's out here with a whole rolodex!