Dolly Parton has been on tour. But didn't she cancel it on account of the weight of her heaving bosoms? "They say my tour's in shambles," she told an audience at Radio City Music Hall last night. "Welcome to shambles." Get thee to Atlantic City tonight, high rollers! But anyway, it was a report from Dolly's Virginia show on Monday that piqued our interest: apparently a song off her new album Backwoods Barbie demonstrates "her belief in intelligent design." Seriously Dolls? Isn't intelligent design for people who think being gay is a "choice"? Would the lyrics to this "Jesus And Gravity" song shake my belief in a pop culture Deity? I consulted them.
I'm to the point where it don't add up I can't say I've come this far with my guitar on pure dumb luck That's not to say i know it all 'Cause everytime I get too high up on my horse I fall

'Cause I've got
Somethin' lifting me up
Somethin' holding me down
Somethin' to give me wings and
Somethin' to keep my feet on the ground
I've got all I need,
Jesus and gravity

But I'm as bad as anyone
Taking all these blessings in my life for granted one by one
When I start to thinkin' it's all me
Well somethin' comes along and knocks me right back on my knees
Well yeah that something would be her enormous saline-augmented knockers. And Dolly knows full well that she could have them "lifted up" by the powers of human reason and science and modern surgical techniques, but she doesn't, because, as she explains in "Backwoods Barbie"
I've always been misunderstood because of how I look.
Don't judge me by the cover 'cause I'm a real good book.
So read into it what you will, but see me as I am.
The way I look is just a country girl's idea of glam.
G/O Media may get a commission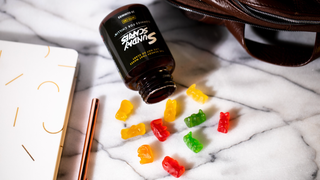 10mg CBD Gummies (22-Count)
She needs to be true to herself. Which doesn't really make sense, but neither do most things, which is why you eventually just think "maybe there's a Higher Power," but if Dolly Parton looks that way because of some deeply rooted aesthetic ideal she grew up with, it can't be all that intelligent, right? Because if that Higher Power were more intelligent, then her tour wouldn't have been canceled in the first place...
No yeah, I'm thinking way too hard.
Dolly Parton's Subversive Message [NYT]
Related: On The Scene: Dolly Parton (And the Biz's Best Stage Banter [EW]
Earlier: Dolly Parton Enthusiasts Give New Meaning To The Term "Fanatic"
Dolly Parton Blames Tits For Postponing Tour, But Is An Eating Disorder To Blame?
Amy Sedaris Stars In Dolly Parton's New Video