During a discussion about how she thinks award shows are total bullshit now, Jessica Lange may or may not have thrown some tremendous shade at 2014 Best Actor Oscar winner Matthew McConaughey.
Lange was on Seth Meyers' "Look, I Wish I Was Still on Saturday Night Live, Too" show to discuss, among other things, her Golden Globe nod for American Horror Story. Lange is a heavy hitter when it comes to awards (she has two Oscars—one for Tootsie and one for Blue Sky). But she sounds like she is totally over what a massive spectacle they've become. Lange told Meyers she waited a full week (!!!!) to tell her son she'd been at the Emmys and also won, seems give exactly zero fucks about awards in general.
"It's become a bit of a freak show," she told Meyers. "A lot of its about fashion, which doesn't interest me at all....When you're recognized for your work of course it's great, you feel somehow reinforced, but the lead up to it and then y'know....then you give actors the platform to speak about themselves which is a huge mistake."
Here is where our investigation begins. Lange was asked what she likes to do in her acceptance speeches. She told Meyers she likes to keep them simple. Then she went on to drop this bit about long-winded speeches.
"I keep it simple," she revealed. "It's all about thanking the people that I've worked with and I never thank god or my mother or tell my children to go to bed... or talk about life lessons, or the hero of my own life. There are certain things I deliberately avoid because I find them incredibly pretentious." THE HERO OF MY OWN LIFE. Oh my God, this woman is perfection.
G/O Media may get a commission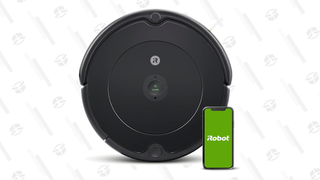 35% Off Black Friday Deal
iRobot Roomba 694 Robot Vacuum
"I'm not referring to anybody that you know," she said. But oh wait. Here is a bit from McConaughey's 2014 Oscar acceptance speech, during which yes, he thanked the hero of his own life, which I think he means is himself but in the future or something. (So, like a reverse Back to the Future McConaughey? I don't know.) Here is the passage:
And to my hero. That's who I chase. Now when I was 15 years old, I had a very important person in my life come to me and say "who's your hero?" And I said, "I don't know, I gotta think about that. Give me a couple of weeks." I come back two weeks later, this person comes up and says "who's your hero?" I said, "I thought about it. You know who it is? It's me in 10 years." So I turned 25. Ten years later, that same person comes to me and says, "So, are you a hero?" And I was like, "not even close. No, no, no." She said, "Why?" I said, "Because my hero's me at 35." So you see every day, every week, every month and every year of my life, my hero's always 10 years away. I'm never gonna be my hero. I'm not gonna attain that. I know I'm not, and that's just fine with me because that keeps me with somebody to keep on chasing.
I am not a shade expert; merely a shade disciple. I do not, however, believe this is shade. I believe this is shedding light. I defer to my esteemed colleague and Shade Court judge Kara Brown who will help us determine if this was, in fact, shade. Watch below and decide for yourself:
---
Image via Getty.