Like Breakfast at Tiffany's and the fact that Blac Chyna and Rob Kardashian are the happiest couple alive, Idris Elba is one of those things we can all agree on. He's hot, he's talented, and we all want him to be the next James Bond—but could he also be a huge jerk? A nasty rumor currently going around is that he "walked out" on Naiyana Garth, the mother of his 22-month-old child, to start a relationship with Yeezy model Naomi Campbell.

Writes The Daily Mail:
This week he separated from his 28-year-old girlfriend Naiyana Garth — the mother of his 22-month-old baby son, Winston. He has moved out of the family home in South-West London, and into a rented flat nearby.

Perhaps coincidentally — but perhaps not — the news came a matter of days after he was seen leaving a nightclub in New York with man-eating model Naomi Campbell, a long-time friend and admirer.
This isn't the first time Elba strayed from Garth. He had a fling with K Michelle, singer of 2013's best song, at some point after the birth of Winston, but she was quick to call it off.

"[Michelle] told a television show the romance took place when little Winston was a newborn, adding: 'When I met him I did find out he had a woman. But I did not know they still had that situation. So I kind of looked up and saw that I was the side chick.'"
G/O Media may get a commission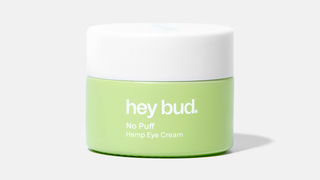 15% off
Hey Bud - No Puff Hemp Eye Cream
But that's not even the end of this tale of [alleged] serial cheating and sudden walk-outs. Elba reportedly "split from his first wife while she was pregnant with their daughter, Isan, who's now 15."
I guess Rob and Blac are our only hope.
---
I don't know boat terminology—forgive me—but pretend you and I are on the bow (or the stern?) of the Titanic, and that it's sinking. As we get closer and closer to the icy North Atlantic, I ask if you trust me, you tell me you do, and I start trying to convince you that Katy Perry and Orlando Bloom are officially boyfriend/girlfriend. We plunge into the water.
That's exactly how the tabloids are handling Perry and Bloom's relationship—they're absolutely desperate for you all to believe them. Because there are very few photos of the couple that aren't either blurry or taken from far away in the dark (they look like two surprised raccoons being interrupted while eating your garbage in this one), sites like E! News have resorted to anonymous tipsters saying things like, "It was obvious that they are really, really into each other."
The closest we've come to actual confirmation was this weekend, when People asked Perry's best friend, songwriter Bonnie McKee, about the state of their relationship.
"I would say so," McKee told reporters with a wink at the Musicares Tribute to Lionel Richie Saturday night, when asked if she thought he was an "upgrade" from Mayer. "But you didn't hear that from me," she added, giggling.

McKee didn't admit that the two are officially an item, but gave her approval of the potential pairing, and added that they would certainly look good on each other's arms.

"What an attractive couple that would be," McKee said.
1. Rude! This woman is more than a mouthpiece for her more famous friend.
2. Why the hell can't these two dinguses just admit they're doin' it?
---
This baby is still in the running towards becoming Tyra's Next Top Child:
---
Gwen Stefani sat in Blake Shelton's lap for so long last night that I think she might be pregnant. [Us Weekly]

(I almost led with that story but Kate Dries wisely convinced me not to.)

Morena Baccarin is too pregnant to be deposed. [TMZ]

Mark Zuckerberg has 16 more bodyguards than you. [Page Six]

Angelina Jolie's new tattoo makes me worry about her health. [Radar]

Lady Gaga's new tattoo just makes me worry, generally. [TMZ]
---
Contact the author at bobby@jezebel.com.
Image via Getty.