Well, this is bizarre. Joe Francis, the beyond-sketchy founder of "Girls Gone Wild," purchased an internship in Arkansas Sen. Mark Pryor's Washington D.C. office off a charity auction website called BiddingForGood, and offered it up to the winner of his "Search for the Hottest Girl in America." (Because every hardworking political hopeful strives to get to the White House via her bare boobs, right?)
Just one problem: Pryor's office never put that internship up for auction, as they don't sell, donate, or auction off internships as a general (and quite reasonable) rule. They're calling the incident a fraudulent hoax and have called the FBI in to investigate.
So what happened? BiddingForGood told the AP that the internship offer was put up for auction "to benefit a child learning center operated by the Wilshire Boulevard Temple in Los Angeles" and that it's up to charities using the site to vet items they list for auction, not the website itself. The listing for the internship didn't specify who donated it. (In other news: you can apparently auction off anything you want on BiddingForGood!) It looks like the temple was duped as well:
Carol Bovill, the temple's director of early childhood centers, said in a brief email late Wednesday that "a private party" organized to benefit the centers included an auction bid from Francis. She provided no details about the organizers.

"We have learned that the party's organizers returned the money and canceled the item. We agree with that decision," Bovill wrote.
So what the hell happened? Someone was able to convince the temple that Senator Pryor cared so much about Californian children that he wanted to offer his support through an auctioned-off internship? Here's the thing: Pryor, Arkansas' only Democrat senator, recently announced his intent to run for a third term in 2014, and he's been a huge supporter of anti-porn legislation in the past. Pryor's office won't straight-out accuse Francis of orchestrating the prank, but they've "suggested that the internship auction and subsequent announcement from Francis was an attack aimed at his re-election bid."
Francis keeps insisting that the internship is "legitimate," even though the charity refunded the money and his website no longer lists the internship as a part of his prize package. He also added that there is "no better way to empower women" than to give them a chance to intern in D.C., after they've been deemed the "hottest" by a bunch of people on the internet, that is.
G/O Media may get a commission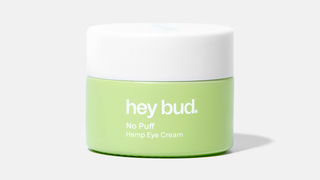 15% off
Hey Bud - No Puff Hemp Eye Cream
Unfortunately, the Hottest Girl in America will now only receive a "major cash price," a chance to host HDNet's "2nd Highest Rated Show," a spot on GGW Magazine's cover, and a trip to Girls Gone Wild Island. (What, pray tell, is Girls Gone Wild Island? it sounds terrifying.) Joe Francis, on the other hand, might be going to jail if the FBI determines that he was involved in the forgery. Hey, it wouldn't be the first time! Or the second.
UPDATE: Francis is innocent; the mess is all venture capitalist Chad Brownstein's fault. He suggested the internship to the temple as an idea, but then someone took it upon themselves to post it for auction without, you know, actually checking with Pryor. So Francis "won" fair and square — but the prize itself didn't actually exist, so to speak. Brownstein has formally apologized to Pryor for the confusion.