When Diane Sawyer replaces Charlie Gibson as anchor of ABC's World News Tonight, two of the big three nightly newscasts will be headed by women. We know what that means: "catfight" stories all over the media.
So far, coverage of the switchover has been pretty staid — and to be sure, Couric is calling Sawyer "one of the hardest-working people" she knows. But New York Magazine was calling Sawyer and Katie Couric "arch-rivals" back in 2007 (when Sawyer had just lost a bid to anchor Word News Tonight), and the New York Observer even opined that Sawyer was considered for Couric's job at CBS. And not one but two major publications called Sawyer and Couric's 2005 competition for morning-show ratings a "duel at sunrise." It's just a matter of time before the "duel at sundown" stories start rolling in. The Columbia Journalism Review already has some Couric-inspired wardrobe advice for Sawyer. We'll start there with our predictions to help you bet on the knockdown, drag-out bikini-mud-wrestling showdown the nightly news is sure to become.
Katie Couric wore white on her first CBS newscast — a day after Labor Day. And her blazer was supposedly "buttoned in such a way as to make her look chubby." The horror!
Diane Sawyer hasn't worn anything on World News Tonight — yet.
Advantage: Sawyer (for now)
Diane Sawyer is supposedly drunk in this clip from the morning of the Inauguration.
G/O Media may get a commission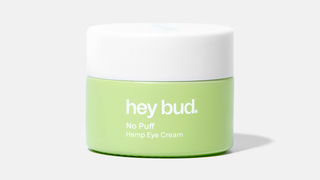 15% off
Hey Bud - No Puff Hemp Eye Cream
But Katie Couric was getting hopped up on cold medicine (again, supposedly) as early as the New Hampshire primary.
Advantage: Couric, we guess
Katie Couric is famous for her "shapely legs."
Diane Sawyer also has legs. Who knew?
Advantage: only a leg-wrestling match can determine this
Diane Sawyer made Vanity Fair's "New Establishment" Hall of Fame.
Katie Couric didn't. But that's okay, because that old establishment magazine, the New Yorker, called her "darn likable."
Diane Sawyer has interviewed Mel Gibson, Saddam Hussein, and Michael Jackson.
Katie Couric talked to Bill and Hillary Clinton, J.K. Rowling, and Tony Blair. And she got Sarah Palin to reveal that she doesn't know the names of any newspapers.
Advantage: probably Sawyer, but the Palin spots bring Couric darn close
Katie Couric's not doing so well in the ratings these days.
Diane Sawyer's Good Morning America is still second among network morning shows, but Sawyer did get big ratings for a February 20/20 special — on Appalachian poverty, not exactly a well-known crowd-pleaser.
Advantage: Sawyer
Katie Couric was nicknamed "America's Sweetheart."
Diane Sawyer "has been called the Ice Queen."
Advantage: unclear, but certainly not Couric, Sawyer, women, or journalism
Verdict: Neither Couric nor Sawyer is a safe bet in the upcoming Queen-vs.-Sweetheart media-generated catfight. But if you wager that upcoming coverage of their "battle" will include the words "legs," "gravitas," and "diva," you'll probably make some bank.
Diane Sawyer Will Take Over ABC's World News Tonight Anchor Chair [Gawker]
Advice For Diane Sawyer [Columbia Journalism Review]
Diane Sawyer To Anchor ABC Newscast [Atlanta Journal-Constitution]
Couric On Sawyer: 'One Of The Hardest-Working People I Know' [Politico]