Sure, we're always saying Hollywood Has Run Out Of Ideas. But that's because the studios keep churning out hot messes like Battleship, Smufs and Candyland, in addition to revisiting old stuff like Tron and The Lone Ranger. (Did you know they're remaking Scarface?) But, as Diablo Cody tells The Hollywood Reporter, there are plenty of stories that have not been done:
THR: Do you think women filmmakers have a different perspective that gives them an advantage in some ways over men?
Yeah, definitely. I know there are people who think every story has been told in film, but I'm telling you it hasn't, because women have not had their proper say. There are stories out there that can only be told from a woman's perspective that have not been told yet and are going to be told. And when those movies come out, people are going to go, "Oh, that's really exciting!" I doubt it's going to be me, but it'll be somebody. It'll be somebody that makes that new story. I think we have the advantage of a different and fresh perspective that has not been represented.
Ana Gasteyer Satirizes the Girl Boss in 'American Auto'
Yes. Thank you. And guess what? Just because a movie includes a woman's perspective doesn't mean it's a movie just for women. Movies about men — from Lincoln to Looper — are marketed to everyone; while some flicks with female ledes are considered just for chicks. It's getting tired.
But speaking of resuscitating old stuff, THR also asked Cody if that Sweet Valley High film she's been working on is ever going to happen
Cody: Yes, yes, yes it is. I feel like I keep telling people it's going to happen, and now they're going to stop believing me, but I'm telling the truth. It's just that the development on a musical is longer, because you're writing a lot of musical material and you really need to find a qualified director for something like this, so that's what's really dragging it out. But I'm telling you: 2013 is the year I'm making it happen.
G/O Media may get a commission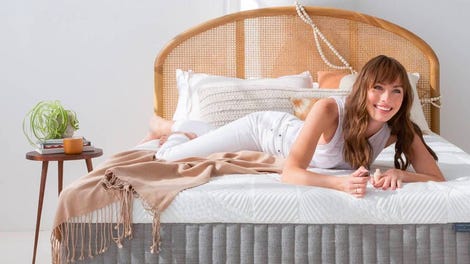 Sleep Sale
Sleep Sale - Brentwood Home
Jessica and Elizabeth 4ever.
[THR]