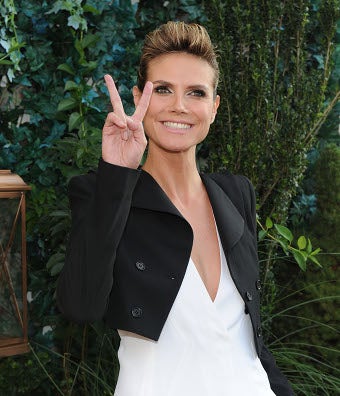 This is exciting: at the Project Runway Season 8 premiere at the Empire Hotel, we didn't just get Heidi and the new batch of aspiring couturiers, but also contestants from seasons past! And Betsey Johnson!
Model Damaris Lewis has a lot going on: luckily she's one of the five people in the world who can pull that off.



Designer Logan Neitzel channels a Medieval hermit. Kind of.



Designer Althea Harper obviously enjoys wearing this in front of the judges in a situation where they can't mock or taunt it. It must be killing her.



Designer Valerie Mayen seems to have run out of budget for lining.



Designer Ivy Higa looks overwhelmed. Possibly by all the exposed undies.



Designer Carol Hannah Whitfield evokes a tequila sunrise.



Designer Ping Wu, unusually subdued.



Designer Jonathan Joseph Peters: diamonds on the soles of his shoes. Or at least silver paint.



Coco Rocha dons what looks like racing stripes.



No one - but no one - out-flamboyants Betsey Johnson.



We'd like to auf Heidi Klum, but she's kinda rocking this.


[Images via Getty]