Prominent third-wave feminist activist and writer Jennifer Baumgardner (Manifesta: Young Women, Feminism And The Future) made a splash three years ago when she distributed a controversial t-shirt that had, writ large on the front: "I Had An Abortion," and was worn by Gloria Steinem, Ani DiFranco, and countless women's studies majors and Take Back the Night attendees. Baumgardner is making headlines again today with a new tee, one that says "raped" on it. The letters are smaller this time — it's a pale pink shirt with an illustration of a safe, and inside the safe is a note emblazoned with the words "I was raped" — but the spirit of provocation remains the same. "By having an object like this," Baumgardner explains to the New York Times, "that's so mundane, it sort of forces [rape] into everyday conversation."
Baumgardner came up with the idea for the t-shirt while interviewing women for a documentary she's making about sexual assault. She's hoping that the shirt is "empowering" for people who experience rape, because it will help "divest themselves of some of the shame and secrecy of it ." But will embracing their experience in such a sartorial way really be so cathartic? We can all agree that rape victims have nothing to be ashamed of, but most people don't feel comfortable having any aspects of their personal lives broadcast, especially not on something so crass as a t-shirt.
A friend of Baumgardner's, Christen Clifford, volunteered to wear the shirt in public and also spoke to the Times. "There really are so few spaces where it's considered appropriate to talk about [rape]," Clifford says, referencing a dinner party where rape came up and conversation just halted. Call me old fashioned, but I'm not sure rape is something anyone is ever going to feel comfortable discussing at a dinner party. Isn't there some medium between hiding away in shame over something traumatic and wearing a t-shirt announcing it?
Rape Worn Not on a Sleeve, but Right Over the Heart [New York Times]

I Was Raped: Wear Your Voice Out [Scarleteen]
G/O Media may get a commission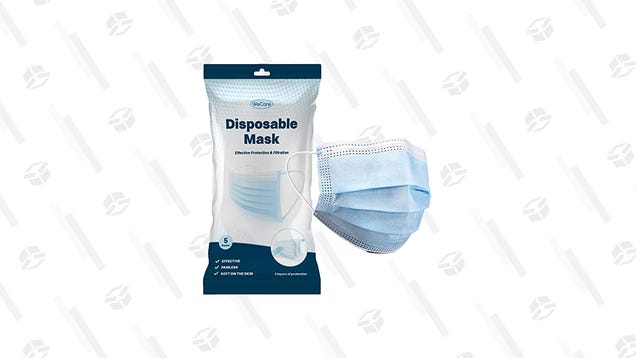 WeCare Disposable Masks With Elastic Earloops- 5 Pack
Related: Rape T-Shirt Could Be Even Bigger Than Abortion T-Shirt

Manifesta: Young Women, Feminism, and the Future

Look Both Ways: Bisexual Politics