Since it's December 31st, here are some of our favorite (and most controversial/ hilarious/investigative/poignant) Jezebel stories from the past 12 months. Delve into a year at Jezebel and revisit all the best, from Lochtenation to cat freak mania. So long, 2012.
I Entered My Baby in a Beauty Pageant and Lost My Mind
"Her!? She's ugly!" I didn't say that aloud, thankfully. But I thought it-about a baby. What a horrible thing to think about an infant, even if it's totally true. Oh, how far I'd fallen from my lofty position of being "above it all," only to land in a stackable banquet chair in the ballroom of an airport hotel in Hartford, Connecticut, deeply invested in the results of a kiddie beauty pageant, bitter, shifty-eyed, and seriously considering starting some shit with the judges.
G/O Media may get a commission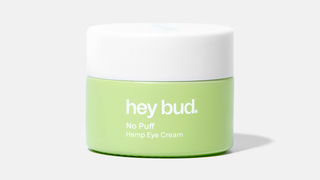 15% off
Hey Bud - No Puff Hemp Eye Cream
My Weekend In America's So-Called 'Rape Capital'
Why are policemen and coeds alike so fixated on weeding out fake rape accusations instead of weeding out rapists? Is it possible that the federal probe will help dispel the myth of the girl who cried rape?
Racist Hunger Games Fans Are Very Disappointed
The good news? The Hunger Games made $155 million at the box office its opening weekend, making it the third-best debut in North American box office history. The bad news, however, reflects a level of idiocy that we weren't really expecting.
10 Reasons Why Ryan Lochte Is America's Sexiest Douchebag
The first time I heard the voice, I chose to ignore it. Ryan Lochte is kind of a fratty idiot, Erin, the voice said. All the signs are right there. You're being willfully ignorant. "Shut up, brain!" I replied. "You're not the boss of me! Come on, vagina! Let's get out of here, away from the party pooper trying to ruin our fun." And then we went out for appletinis.
I Went Looking for Internet Cat Freaks, But Instead I Found Myself
Because of my curating skills (it sounds more respectable when I call it that), I recently found myself in Minneapolis in order to attend the first ever Internet Cat Video Festival. (When I first heard about the event, I sent the link to Jezebel editor-in-chief Jessica Coen. "Haha," I jokingly wrote. "You should totally send me to this." Less than a minute later, she told me to book a flight. Be careful what you wish for.)
When Motherhood Never Happens
As friends and colleagues get hitched and have babies, sometimes I start to feel like a straggler at a party. Everyone's gone home, what am I still doing here?
I Re-Watched Titanic So You Don't Have To. You're Welcome.
I don't remember a lot of specifics about watching Titanic in theaters in 1997, but I was 15 years old, which means my two biggest concerns were 1) locating romance, and 2) not dying in a nautical catastrophe. So I think we can safely assume that I fucking loved that movie.
Kate Upton Is Now Considered 'Fat'
A popular pro-ana - excuse me, "pro-skinny" - site called SkinnyGossip is being roundly criticized for writing a hate-post directed at noted GQ covergirl, YouTube dance enthusiast, and swimsuit model Kate Upton.
The Ten Scariest Places to Have Ladyparts in America
With states governments from coast to coast working tirelessly to make sure no woman has sex for pleasure without suffering the consequences of blessed, precious motherhood, it may be tempting to believe that if you have a uterus, the entire country has become hostile territory.
How to Shut Down Reddit's CreepShots Once and for All: Name Names
A 25-year-old female Redditor has finally come up with a way to beat Reddit's r/CreepShots posters at their own game: compile their personal information and report them to their bosses and local authorities. So far, it's working.
A Complete Guide to 'Hipster Racism'
There's been a lot of talk these last couple of weeks about "hipster racism" or "ironic racism"-or, as I like to call it, racism.
My Six Months as a Dirty, Boob-Swinging Derelict
Prior to giving birth six months ago, I was generally discreet when it came to nudity. I mostly kept my private parts private. I never flashed, I never sexted, and I even had a special way to change shirts in ladies locker rooms that I'd developed back in high school gym class and carried with me through life. Until I started breastfeeding.
My Mom Is My Best Friend, and That's Not Necessarily a Good Thing
"My mom is my best friend. I can talk to her about everything, she helps me through everything. We don't really have any secrets," I said, playing with the weave of the orange upholstered chair I was sitting on in a cramped therapist office at the University of Wisconsin's free health center.
'God, Use Me in Whatever Way': Meet the 24-Year-Old Who's Willing to Die for the Anti-Abortion Movement
"I'd die to protect another human life," Lila Rose tells me over chicken tenders and french fries. "I'm all in for this cause. Let me do whatever I can do, God, like, use me in whatever way."
I Successfully Stalked the Jersey Shore Cast
I spent my summer vacation witnessing pop cultural history in the making: I took a trip to Seaside Heights to stand outside of the Jersey Shore house in hopes of a Snooki sighting. But before I knew it, I was signing a release form, interacting with the cast, and learning how our reality TV sausage gets made - just in time for the final season of the hit MTV show.
Hey, Girls, 'Modesty' Is Bullshit
Obviously "modesty" has shed some of its patriarchal baggage in the long, slow slog toward modernity, but its fair to say that it's fundamentally intertwined with the concept of women-as-property.
14-Year-Old Model Is a Major Violation of Vogue's Age Pledge
Just four months after announcing its commitment to end the practice of hiring models under the age of 16, Vogue magazine has violated its word - for a second time.
How to Make a Rape Joke
The world is full of terrible things, including rape, and it is okay to joke about them. But the best comics use their art to call bullshit on those terrible parts of life and make them better, not worse. The key-unless you want to be called a garbage-flavored dick on the internet by me and other humans with souls and brains-is to be a responsible person when you construct your jokes. Since the nuances of personal responsibility seem to escape so many people, let's go through it. Let's figure out rape jokes.
Haters Need to Shut the Hell Up About Gabby Douglas' Hair
As of yesterday, 16-year-old Gabby Douglas is officially an Olympic gold medalist. But some people watching her compete weren't focusing on her floor exercise - they were distracted by her hair.
Nail Art, the Last Bastion of Female-Centric Beauty
When historically female-centric practices-like cooking, baking, hair styling, clothing design, etc.-have been legitimized into celebrated careers, men typically end up being the stars who dominate those industries.
Think Twice Before Donating to Kony 2012, the Charitable Meme du Jour
I admit that I instinctively hated the Kony 2012 Campaign as soon as I watched 15 seconds of the effort's new viral video, produced by non-profit Invisible Children, which pledges to make extremely evil Ugandan warlord Joseph Kony famous, "not to celebrate him, but to raise support for his arrest and set a precedent for international justice."
Why Are Fashion Designers So Ridiculously Touchy About Press?
Yves Saint Laurent's treatment of the press under new creative director Hedi Slimane has been perhaps the most talked-about event of this fashion season. It's a perfect case study in how not to do public relations - but it's also an illustration of the broader problems that dog fashion, a field of endeavor that is structured in such a way that reporters must depend on the luxury companies they cover for "access."
The Official Guide to Legitimate Rape
If you're unfamiliar with the exciting concept that your uterus can pick and choose between various kinds of rape, don't fret. We have just the guide for you.
How to Survive the Demise of Your Favorite Celebrity Couple
This is my first celebrity heartbreak (and you never get over your first), but we've all had them - Diana and Charles, KStew and R-Patz, Whitney and Bobby. These are the couples that we project ourselves onto and claim as our own even though we really have no right to (/sarcasm - we totally have a right to). It hurts - OH, GOD, HOW IT HURTS - and so far there has been no guide to how to get over it. Until now.