A new report reveals that a computer at the Canadian Department of National Defence may have been used to edit a Wikipedia page about Rehtaeh Parsons. The page was edited to say Parsons had engaged in consensual sex at a party where a classmate took a photo of her being penetrated. Parsons' parents have maintained that she was raped.
According to a report from the Canadian Press, about a dozen changes were made to the Wikipedia page about Parsons' death, all allegedly from an IP address that was traced back to the DND. One of the changes altered a quote made by Parsons' father, Glen Canning, to make it sound as though he was arguing she had consensual sex with two boys at the party. One of the boys photographed the other penetrating the girl as she hung out of a window, having just vomited. Canning and Parsons' mother Leah have said that the girl was raped. (The photo was circulated for 10 months before police began investigating the allegations; they quickly said there was "insufficient evidence" to charge the boys with rape. Both eventually pled guilty to child pornography offenses and served no jail time.)
The original quote from Canning on the page read, "The two boys involved in taking and posing for the photograph stated Rehtaeh was throwing up when they had sex with her. That is not called consensual sex. That is called rape." But the quote was edited to read "that is called consensual sex."
If you look at the Talk page for Parsons' wiki entry, you can see that it's filled with unusually contentious and fairly nasty statements about the case, like this one, which was added by an unsigned commenter in July 2014:
It is highly likely this girl was not raped. If people are going to libel fine young men who have done nothing wrong, they should proceed very, very carefully. If there is libel involved, the boys should sue for everything they have less a dollar. If she decided to perform oral sex on someone, that is not rape. That is oral copulation. If she was asked to bare her breasts and did, that is not pornography. Clear?
G/O Media may get a commission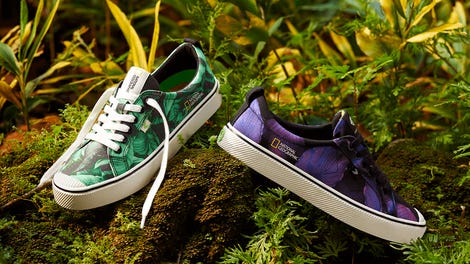 New New New
Cariuma + National Geographic
Or this one, added sometime in 2013, and also unsigned:
Why is there an article dedicated to one girls suicide? Thousands of people commit suicide every year. What is so unique about this one? A girl has sex with multiple boys, someone films it, she is harassed at school, and kills herself. We have heard it all before.
The DND has said they're investigating allegations that the changes were made from a departmental IP address. Glen Canning told CBC that he knows who edited the page, telling a radio host, "I believe it's a relative of one of the boys charged in her case." On the official Facebook page for the Parsons family, either Canning or Leah Parsons posted an article about the edits, along with one anguished-sounding sentence: "Just when there is a bit of reprieve and silence...something comes up."
Image via Facebook