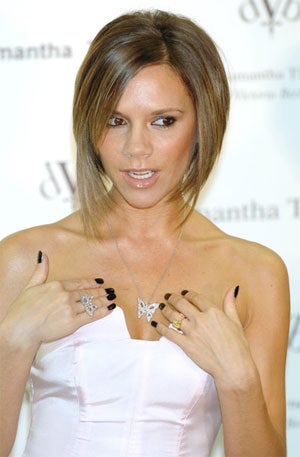 English fashion writer Hilary Alexander admits that she's "always had a soft spot for Victoria Beckham. She is frank, funny, forthright and does not suffer fools gladly. She's married to a world-famous footballer, she's a good mother to three beautiful sons and juggles a host of careers. OK, so she occasionally has a blind spot when it comes to what she wears, but nobody's perfect. She lives her life under a microscope, in a minefield of gossip and speculation, and, somehow, takes it in her stride." Duly noted — but what new things did Hilary learn about The Artist Formerly Known As Posh when she interviewed her for England's Telegraph? Inside the mind of Victoria Beckham, after the jump.
Victoria on...
...the hot pants-and-corset ensemble she wore to the Glamour Woman of Achievement Awards: "Karl Lagerfeld thought it was cool and that's good enough for me."
...what awes her about other celebrity women: "I was starstruck meeting Cameron [Diaz]. She is so gorgeous and she has an amazing body."
...living a life played out in the tabloids: "There are always going to be people who are negative; I just focus on the positive."
...on husband David Beckham: "He is so amazing and he has done a lot for his country."
... on her burgeoning career as a fashion designer: "I know I'm at the bottom of the ladder in respect of my fashion career, but I have passion. I love the creative process. I love using my brain."
Will I Become Lady Beckham? [Telegraph UK]