You see, Mr. Claus, I think we should talk about it.
Santa, it's kind of cool to send models to Chile's Andes Mountains and all, but really, even though the girl in the coat looks adorbs as she "poses" or drunkenly weaves through the snow, the dude in the poncho and hat in the back looks more interesting. Bad-ass, even. Even the horse is like, "Bish plz. Nay."
Santa, don't you love this shot? The textures and colors! And if you, Mr. Claus, feel bringing this girl a pearl twisted hammock necklace ($98) and a pearl-and-crystal avalanche necklace (135), that would be awesome, because I'm loath to pay those prices for them. And I've been good.
G/O Media may get a commission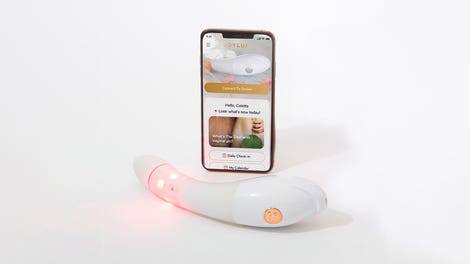 $50 Off
Joylux vFit Gold Device
Have you ever tried this, St. Nick? Going out it lots of cute layers instead of a coat? Does it work for you? Really? Are you warm enough? Can you still move your arms? Huh.
Aw, Santa, as a girl who dresses up for Dorothy almost every Halloween, my heart skips a beat when I see glitter heels. Then again, I dig pretty much everything glittery here — the tank, the cardigan, the necklace.
Yum! Ladylike coats in sugary-sweet colors!
Ooh, this hearkens back to boat on dry land trend of 2008! Unless that's a frozen lake.
(Click "full size" to enlarge)
Dear Santa, don't you think it would be nice to entertain at home in a velvet jacket and silk pajama pants? And, more importantly: Sneakers? Oh, it's all very well to squeeze into something short and/or tight, and strap on heels and teeter around at holiday parties. But imagine being able to eat! And walk!
Dear Kris Kringle: The "Ellington" skirt is named after Duke, right? It's all jazzy and whatnot, designed for dancing on top of a piano or for pretending you're in a repertory theater production of Chicago. Too bad it's styled with those hideous socks and shoes.
Riddle me this, KK: Is "bling" ever going away? Not sparkles — sparkly stuff we love. But the word. Bling. Just a question. While you're thinking about it, bring me this cardigan in light berry, fresh guava, soft violet and heather fossil.
Yo. Sinterklaas. File this under "good in theory but less elegant in practice."
Dear Santa: Bet you can't guess who the most awesome person in this picture is. Go ahead, click "full size" to enlarge. Nah, it's not the gray lady on the left in the Ellington skirt. Try again.
Ding ding ding!
Hey, Santa, did you know J. Crew hired Chanel Iman? Exciting, right? She looks super pretty! Young! Fresh! Bright-eyed and bushy pony-tailed! And, you know: Yay for black models.
Another yay! Is this Arlenis? Her skin is to die for, as are these soft, candy colors.
Oh, Santa. If only I looked like this right now. Put-together! Joyous! Like a flattering light and some peachy blush are emanating from within me! Instead I'm wearing pajamas with cupcakes and ice cream on 'em and my hair looks like a Brillo pad that needs to be thrown away and my face is like :-/
Dear Santa: Everything but the boots. And maybe you could throw in a little somethin' extry?
Thanks!
J. Crew [Official Site]
Earlier: October At J. Crew: Pretty, Preppy, Preposterous
J.Crew's Ovary-Busting Child Models Should Come With A Warning
Fall At J. Crew: Romantic Ruffles, Destroyed Jeans, Hideous Shoes
J. Jill Vs. J. Crew: It's A Fashion Showcase Showdown
Related: Barneys: Wooing With Witticisms & Wallet-Emptying Wares
Ashro: Stop Being Such A Slob And Get Yourself A Suit, Hat & Wig
19 Crappy & Crazy Christmas Gifts From Sky Mall
Dean & Deluca Thanksgiving: Mouth-Watering, Wallet-Emptying
All previous catalog posts