In the midst of planning for a midweek movie night, I had an epiphany.
As a self-proclaimed movie buff whose wardrobe contains pieces mentally marked "cinema attire, " and whose movie must-haves include the Lord of the Rings trilogy and the lesser-known Disney classic Polly, I couldn't help but offer a sigh of lament and irritation to the movie Gods upon taking inventory of my latest viewing options — a former slave turned bounty hunter, dwarves on a 166 minute mission to slay a dragon, and the marital woes of a 40-something white couple. And just as I was resigning myself to a night of DVR'd television, it hit me; I miss black romantic comedies.
Not just any romantic comedy that boasts a handful of black actors, but real black movies with real black casts, highlighting real black love and made for real black people. Classics like Love and Basketball, The Best Man, Brown Sugar, How Stella Got Her Groove Back, and the holy grail of black romcoms, Love Jones. The days of Sanaa Lathan, Nia Long, Boris Kodjoe, Gabrielle Union and two of the original chocolate drops, Morris Chestnut and Taye Diggs. Oh how I miss those days. The days when finding a culturally relevant movie somewhat reflective of my everyday life and with a decent soundtrack (who doesn't love "Hopeless" by Dionne Farris?) didn't require flipping through the "African-American" or "Urban" film categories on my Netflix, or happening to stumble upon the TV version of one of the aforementioned on BET.
While many of these films weren't exactly Oscar contenders (though I'd argue a handful were) and most followed the same pattern — macho black male goes after the stoic black woman — they are as important as any Academy Award-winning motion picture. These films brought to life and to viewers one of the most poignant and often overlooked aspects of black culture; the way we love. With well-rounded characters, big city backdrops and the perfect blend of drama, sex and comedy, they managed to brilliantly capture the joys, pains, complexities and uniqueness of black men and women falling in, out and over love. Not to mention they also gave me, and millions of other black women, hope that maybe one day we too could be someone's Nina Moseley, so consumed by love that it overpowered our natural black girl instinct to grab an umbrella, shower cap or hoodie before running in the rain with our Darius Lovehall.
With much of today's black films falling into the all-or-nothing pattern, either showing the darkest parts of black culture and history, or giving audiences 90 minutes of fluff, the black romcoms of yesteryear struck a much-needed and refreshing balance. They offered realistic portrayals of black cultural and not too deep entertainment, resting on a happy medium somewhere between a Spike Lee film and Booty Call.
Yes there've been a few recent hits like Jumping the Broom, Think Like a Man, Tyler Perry's Why Did I Get Married and even Perry's upcoming flick The Marriage Counselor, but one or two films per year is hardly cutting it. I blame Think Like a Man, or as I like to call it "the ultimate fake-out," for prematurely prompting me to think we were on the brink of experiencing a resurgence of black romcoms; but that was just a tease. What we really need is a rebirth of sorts, a return to the genre's heyday.
G/O Media may get a commission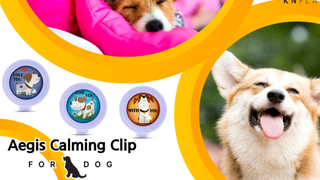 20% off
Aegis Calming Clip for Dogs
But I digress.
With many of the genre's most popular black actors and directors moving on to bigger and better, and audiences movie palates changing by the day, there seems to be little to no room in the movie world for this never quite fully developed film genre. So if the black romcom era is truly a thing of the past, and Tyler Perry films and one or two so-so written romantic comedies touted as black romcoms, but in actuality boast at its best a multiracial cast with the archetypal black sidekick, are all I have to look forward to, I'll reluctantly take it. Besides, I guess I need to put my VHS/DVD collection to work every once and a while.
---
This post originally appeared on HuffPost Black Voices. Republished with permission.
Follow Chevonne Harris on Twitter: www.twitter.com/mesochevy