Team Turkey, Team Cake, Team Pie: There's something here for all of you! If you brought your credit card, that is.
This is a pretty interesting spread they've got going here: There's wine, but no veggies or bread. Just meat and dessert. Not that I'm complaining. Interested in doing a little shopping? The pecan pie is $65; the apple pie is $65, and you'll pay a $150 for that ham. Oh, the chocolate turkey centerpiece is $175 — more than the actual 14 lb. turkey, which rings up at $125.
The Turkey Roulade is layered with cornbread stuffing (made from cornbread, yellow onions, celery, cranberries, pecans and jalapeño peppers) but the Harvest Cornucopia cake sounds even better: Buttery almond cake layered with rich vanilla cream, frosted in chocolate buttercream and wrapped in dark chocolate. What if I don't want the weird marzipan fruit — just the frosting? Will that knock a few bucks off the $150 price tag?
G/O Media may get a commission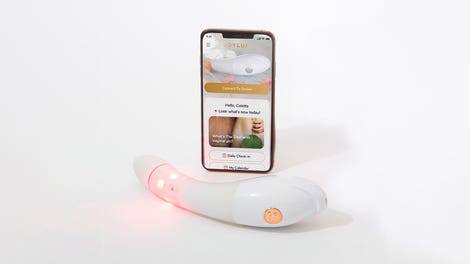 $50 Off
Joylux vFit Gold Device
This Berkshire boneless ham looks decent, but there's no way it holds a candle to the pecan-covered, bourbon-soaked ham my mom used to make. Before my sister became a vegetarian.
Sour cream apple walnut pie — made with Granny Smith apples, fresh sour cream, topped with brown sugar, cinnamon and walnut streusel — sounds really good right about now. But if you're going to spend $65, the "pie sampler" may be the way to go: You get to taste the walnut pie, the pumpkin pie, the pecan pie and the Mississippi Mud pie. We discussed the pumpkin cake earlier, so let's move on to some other cakes…
The German chocolate cake has four layers of light chocolate cake with buttercream frosting and coconut and toasted pecans between the layers. Callebaut chocolate fudge and chocolate curls top the whole thing off. Sounds like $75 might be a bargain for that one. The coconut key lime cake is "zingy," according to the copy, but I'm really curious about the raspberry rose vanilla cake. Butter cake perfumed with Tahitian vanilla beans, then layered with buttercream flavored puréed raspberries and rose syrup? Never heard of such a thing!
Since the $180 purse cake seems gimmicky and the $40 pistachio cake not sweet enough, gâteau nuage cheesecake it is! "A delightful blend of cream cheese and whipped cream, layered with sour cream, in a graham cracker crust." And at $70? You're really putting your money where your mouth is.
Earlier: Halloween At Dean & Deluca: The Trick Is Being Able To Afford The Treats
Mackenzie: Hot, Steamy, Scrumptious Food Porn
Free People Wishes You Hippie Holidays
Lilly's Kids: What's Christmas Without Reinforcing Gender Stereotypes?