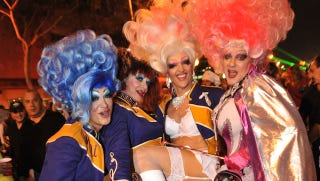 In its search for "the one gift that would make any single gal's heart go pitter pat," Chemistry.com crunched the numbers and produced a list of the "Top Ten Cities to Find a Sensitive Man." Here's the list:
1. Pompano Beach, Fla.
2. Roanoke, Va.
3. West Hollywood, Calif.
4. Nashville, Tenn.
5. Buffalo, N.Y.
6. Sarasota, Fla.
7. Greenville, S.C.
8. Wilmington, N.C.
9. Indianapolis, Ind.
10. Staten Island, N.Y.
Regarding No. 3: yeah, "sensitive" is what my grandma calls it too.
Top Ten Cities to Find a Sensitive Man [Chemistry.com]