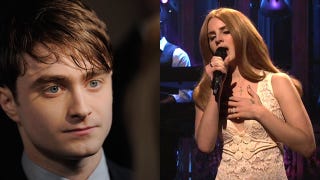 Oh, no! Class act Daniel Radcliffe is disappointed in all of us for our flaming of Lana Del Rey!
Radcliffe says:
It was unfortunate that people seemed to turn on her so quickly... If you read what people are saying about her online, it's all about her past and her family and stuff that's nobody else's business ... I don't think [the performance] warranted anywhere near that reaction.
You are probably right, Dan, though to say that we turned on her would suggest that, at one point, people were rooting for the sleepy sex kitten to succeed. Regardless, we're sorry. I'M sorry. Besties?
Daniel Radcliffe Defends Lana Del Rey [Vulture]