Right around the moment Dakota Fanning made out with Kristen Stewart-as-Joan Jett in The Runaways, you may have realized that she's segued from her super-driven, super-child-actressy days (see: Amy Poehler's SNL sendup) to her eyeliner-skinny jeans-posing-for-Marc Jacobs-ads-going-to-Coachella period. But the Kote's grown-ass womanhood will be solidified when her coming-of-age drama Very Good Girls drops this year, featuring Fanning's first-ever onscreen nude scene. (And maybe the first time she has ever been naked, like, ever. How do we know?!)
She explained at Sundance this year, "Yeah, well, I've never done that before and I'm very newly allowed to do that. I was newly 18, so yeah, it was, it's kind of a sensitive thing, but it's a part of life."
But then, she did a rape scene in Hounddog at 12, so this must feel like going backwards? [MTV News]
---
G/O Media may get a commission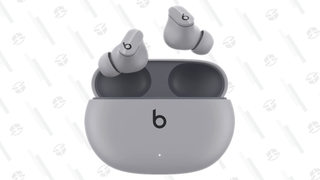 A vintage photograph of Arnold Schwarzenegger in flagrante (that means "fucking," for those of you who didn't go to clown college), was discovered in the storage locker of the deceased founder of Penthouse along with shots of Madonna and Lauren Hutton. YouPorn has offered $150,000 for the Governator's shot, plus (more improtantly), a letter that includes the phrase "Schwarzenegger's 'Schwanz.'" I will offer only this advice: don't shine a blacklight on those pictures because they'll probably look like a map of Hawaii. [TMZ]
---
The Los Angeles judge unfortunate enough to be saddled with Lindsay Lohan, who deigned to show up for court after planning to skip it, showed her that mama don't take no mess. Her lawyer said that LiLo's upper respiratory infection—a result of New York's flu epidemic—made it unwise for her to fly.
"Glad to see you're feeling better," Sautner said a few minutes into the pretrial hearing for Lohan's misdemeanor car crash case. "Thank you," the actress replied.

Sautner then asked: "Is that a cold?"

"Yes," Heller replied. "In New York City, it's the flu."

"No it isn't," Sautner, a former New York City police detective, shot back. "I still have New Yorker in me. The flu is a whole different test."
In the court of phlegm, LiLo is out of order. Cue Law & Order gavel noise. [NYDN
Hey, remember those weird leather leggings that Lindsay Lohan designed a few years ago? She's suing another brand for using her trademarked name for the line, 6126 (representing Marilyn Monroe's birthday). [TMZ]
What even is her new tattoo? [Vh1]
Michael Lohan and Kate Major have a new baby to fuck up. [Us Weekly]
To whom Dina Lohan offers a not-so-heartfelt "congratufuckinglations." [TMZ]
---
As if Robert Pattinson and Kristen Stewart's mopy union was not already full of holes in the shape of Rupert Sanders' chino-clad penis, the 18-and-a-half hour distance between L.A. (where K-Stew is) and Adelaide, Australia (where R-Patz is) is proving a challenge to the couple. Attention me! cries Kristen.
"Robert is often starting his working day when Kristen is busy, and vice versa. And he's not the best at sending texts, or keeping in touch in the first place. Kristen is angry with him because she thinks he's not giving her enough attention – it's absolutely killing her. So, she's told him off and said she wants more messages, updates…. Anything…. so she doesn't feel forgotten about!"
hey
hey
how's your hair today
good yours
good
...
are you there baby?
sry there was kangaroo
ROB I HATE WHEN YOU DO THIS [Radar Online]
---
It sounds like the setup of a Comedy Central Roast joke, but Oprah strained her back while picking up a massive floral arrangement for her birthday sent by Tyler Perry. Derp. Blowjob punchline! Applause, please. [Page Six]
---