On Tuesday, Dallas-based oil company and Dakota Access Pipeline operators (or profiteers, depending on your understanding of what stolen land is), Energy Transfer Partners, filed a lawsuit against Greenpeace International, Earth First!, and other environment advocacy groups accusing them, ironically, of racketeering.

ETP is the second company to accuse Greenpeace of violating the Racketeer Influenced and Corrupt Organizations Act (the RICO Act), typically used to try members of organized crime networks. Last May, preternaturally self-assured logging company Resolute Forest Products filed its own racketeering suit against Greenpeace over the environmental group's anti-decimating-Canadian-forests campaign "Resolute: Forest Destroyer."
The oil and gas company is also charging these various groups, who helped organize peaceful protests against the construction of their beloved pipeline, of eco-terrorism and other crimes, the Washington Post reports. What was so specifically terrifying about these alleged acts, is that they caused damage to the company's "critical business and financial relationships." The lawsuit also accuses the environmental groups of "manufacturing a media spectacle," that, again, impacted the company's bottom line.
G/O Media may get a commission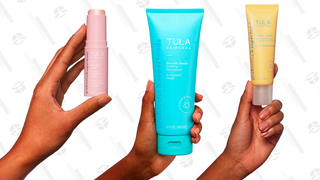 Of course ETP is being represented by the law firm founded by Trump's longtime (until recently, due the Russia inquiry) attorney, Marc Kasowitz. The same firm represented Resolute last year. Greenpeace's lawyer, Tom Wetterer, commented on the connection in a statement, saying, "This is the second year Donald Trump's go-to-attorneys at the Kasowitz law firm have filed a meritless lawsuit against Greenpeace….[The complaint] repackages spurious allegations and legal claims made against Greenpeace by the Kasowitz firm on behalf of Resolute."
And let's not forget either, beneath the pile of other reprehensible shit that Trump has done since taking office, that our fractious frack-zealot of a president brought back the Dakota Access Pipelines project from the dead, after Barack Obama in his final days as commander-in-chief had come to his senses and halted construction, and after many months of brave, dogged organizing against the pipeline by the Standing Rock Sioux Tribe and its allies.