Not sure what you're doing this weekend? Neither are we. But we're probably not going to do anything Daily Candy tells us to do. This is not because delicately pecking at tapas at the "cutest" new restaurant while reading the "latest" novel about a blah blah fashion editor blah blah socialite detective and looking down occasionally at our "freshly" pedicured feet in brand new "super" high heeled shoes, isn't appealing. We just did that last weekend, and the weekend before, and the weekend before that while following the Daily Candy Weekend Guide. Ha ha ha kidding! After the jump, Intern Cheryl runs through some of Daily Candy's more absurd and/or banal weekend activities, and fills the gaping cavity in their usefulness by suggesting some alternatives.
Daily Candy Everywhere: Eat overpriced yeast rolls.
Jezebel Weekend Guide: Eat yogurt; avoid carbs AND a yeast infection!
Daily Candy Boston: Get some henna tattoos at a "henna tattoo party."
Jezebel Weekend Guide: Buy a sharpie, paint your nails with it at a bar, where sharpie will magically enable you to pick up tattooed wannabe vandals that you harbor no illusions of ever actually dating in honor of National Singles & Unmarried Americans Week. Stupid but it will actually work.
Daily Candy Chicago: Buy greeting cards, become an instant witty asshole!
Jezebel Weekend Guide: Buy drugs, become an instant witty asshole.
Daily Candy Dallas: Pay $35 for coffee and a light breakfast, and the luxury to spend the morning sketching with others.
Jezebel Weekend Guide: Pay $5.90 and do this exact same fucking thing at Starbucks.
G/O Media may get a commission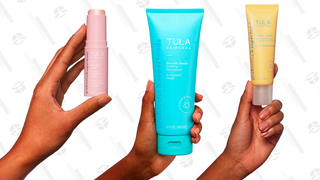 Daily Candy Miami: Show your third nipple and try out for the acrobatic freak sex show troupe at Spiegelworld.
Jezebel Weekend Guide: Uhhh, for those of you without third nipples, do cartwheels at a park and apply the acrobatics to sex and/or beer bongs.