Season two of MTV's Daddy's Girls premiered last night, featuring Angela and Vanessa Simmons (daughters of Rev. Run from Run-DMC). Watching the show, I kept wondering something: why don't we see more women with business ambitions featured on TV?
The show, for the uninitiated, focuses on the Simmons sisters and their close friends and family as they move to Los Angeles and prepare to launch their clothing and shoe line, Pastry.
Now, the show is kind of entrepreneurship light - after all, the Simmons' girls have a substantial financial cushion in their father, Reverend Run of Run-DMC fame. And their famous uncle, Russell Simmons is also around to help with advice, financing, and promotion. I believe the parents put a cap on their initial investment, but having those kind of resources to tap must be nice.
In addition to that, Vanessa and Angela don't seem to be suffering for their business. I'm not sure how many entrepreneurs I know who are able, in the first year of launching their business, to afford to move to a much larger and much nicer house (with what seems to be an unlimited decorating budget). But I'm not hating - that's all part of the reality TV magic.
To be honest, though, I can lay aside the larger stretches and enjoy the show. I'm quite cheered at the fact there is a large group of young women - young black women, at that - who spend a significant chunk of televised time discussing their business, requirements, and plans for the future. And the fact that they share in their plans and struggles with their friends (as they did in the clip above) makes for a refreshing break from the drunken fights and ridiculous spontaneous-but-really-rehearsed disses and betrayals that comprise so much of what is broadcast on reality tv.
I hope that Daddy's Girls can avoid the pitfalls of another show I used to enjoy, Gimme Sugar. Broadcast on LOGO, Gimme Sugar followed club promoter Charlene as she and her friends focused on throwing a popular club night for lesbians (called Truck Stop) and the ensuing issues when Charlene's friends hatched a plan to throw a competing club night. The first season was full of drama, but also lots of practical discussions about what it takes to promote a night. I really enjoyed watching the women try to work out their problems, and even though the girls ultimately failed in their mission to have a competing night (not enough organization or capital), that allowed Charlene to bring them into her employer's fold.
G/O Media may get a commission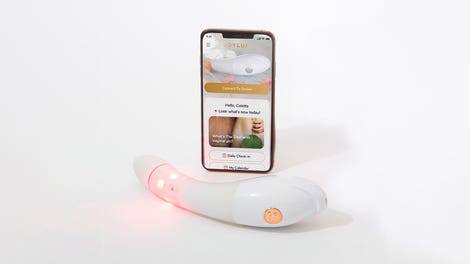 $50 Off
Joylux vFit Gold Device
Unfortunately, the second season of Gimme Sugar (taking place in Miami) focuses solely on the hotness of the girls and their personal drama, with the business element fading away to an annoying footnote.
So far, the Simmons seem to be committed to their business and making it grow. I must admit, it was kind of a rush to see Angela close a sale on the spur of the moment, even as their show room was unprepared and they were not prepared for clients.
Hopefully, if Daddy's Girls is successful, perhaps we will have even more representations of women on reality television that focus on their competence and business savvy, and not their breakdowns.
Official Site [Pastry]
Daddy's Girls [MTV]
Gimme Sugar [Logo]
Gimme Sugar: Miami [Logo]