Critics are generally of one mind: This Is It is really it. Culled from the footage of Michael Jackson's final, never performed concert series, the docu-musical gives fans one last look at the King of Pop.
Reviews of This Is It, which was released today, are surprisingly unified, and follow an almost formulaic move from eulogy into gentle critique. Most marvel at Jackson's apparent health, his vitality and good humor. By all accounts, This Is It shows Jackson at his best; he is surprisingly springy at 50, and does not reveal in his voice or motion the coming tragedy. Viewers hoping for a glimpse into the causes behind Jackson's sudden death may well be disappointed, although there is a certain amount of pathos for the most schadenfreude-starved among us. As in life, critics oscillate between praising his talents and falling into the inevitable discussion of his strange physical appearance. But it seems that this friction, the weirdness of watching a dead man who exudes life, yet looks so totally spent, is part of what drives the film.
However, die-hard fans will find a lot to love in director Kenny Ortega's film, which, viewers are informed at the beginning, was never intended for public viewing. The clips were all shot for Jackson's personal use, to document the behind-the-scenes action as he prepared to launch his 50-concert series. While it may not exactly reveal the real MJ, there are moments that offer valuable insight into Jackson's technique. Hollywood insiders who were lucky enough to view the film Monday had good things to say about its contents. "It is the single most brilliant piece of filmmaking I have ever seen," wrote Elizabeth Taylor on Twitter. "It cements forever Michael's genius in every aspect of creativity." Jackson's brothers had even higher praise: "It was closure for me," said Marlon Jackson. "And it was a moment where I just felt his spirit inside of me. And that made me feel good."

USA Today
Even when just marking his movements, Jackson shows signs of the physical and vocal fluidity and sheer charisma that he retained. Watching him work with his band and backup singers and dancers, one senses the excitement and joy that talented performers can bring to the often grueling process of assembling a show.

Jackson's creative team and crew emerge as engaging personalities in rehearsal and interview segments that are surprisingly funny or moving. (Jackson himself reveals a sense of humor that mitigates his more eccentric traits.)
The big fear, though, was that fulsome homages to the man and his talent would smother This Is It in a coating of treacle; thankfully, Ortega limits it to the occasional sobbing outburst from the dancers or choreographers. We are instead offered genuinely interesting tidbits of Jackson's stagecraft, in the shape of intense discussion of cues, cherry-pickers and trapdoors – presumably to demonstrate how hands-on he was.
G/O Media may get a commission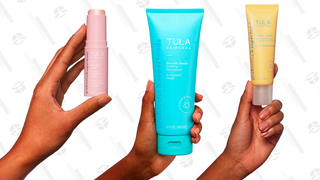 Even though Jackson's looks - with his weirdly delicate face and his stick-thin frame - still makes one squirm with discomfort, once he starts to perform, that discomfort gives way to amazement. At 50, Jackson was still an amazingly gifted dancer with moves that leave your mouth agape. Though we only see him do the moonwalk once, and just fleetingly, his stop-on-a-dime spins, deft footwork and body jerks recall the Jackson the world fell in love with 25 years earlier with "Thriller." And Jackson's voice still dazzles - even when he's trying to play it down.
Ortega and Jackson had some Berkeley-size production numbers in mind. A version of "Smooth Criminal" interpolates Michael into antique movie clips with Rita Hayworth, Humphrey Bogart and Edward G. Robinson. "They Don't Care About Us" sends 1,100 CGI soldiers marching down a kind of Champs Elysees whose Arc de Triomphe is bent into an M for Michael. "Thriller" was to boast 3-D effects. And "Earth Song," the rainforest message number, has a dewy child (a girl, if you're wondering) facing down a bulldozer, which was then to motor toward the front of the stage, ready to devour the star. 'Save Michael, he seemed to be saying, and save the planet.

But the coolest moments show Jackson unadorned and unplugged. He sings "Human Nature" nearly a capella, blending vocal virtuosity and a choirboy's clarity; there's nothing false about his falsetto. His terpsichore leads viewers through how-the-hell-does-he-do-that? astonishment into a mute appreciation of Jackson's ability to channel Fred Astaire's nonchalant elegance and fit it to the percussive drive of R&B. He gives dancing class and sex.
The film (produced in association with the Michael Jackson Company) carries the dedication: "For the fans." Quite so: non-believers will find little of interest here. Would Jackson would have completed all 50 strenuous London shows had he lived? On this evidence, the jury's out.
The film captures Jackson dressed with customary flamboyance, his fashion flourishes including military epaulets, sequins and gold-spangled pants.

Jackson backup dancer Misha Gabriel said the film is "such an honest and raw look at the creative process that at times it makes me think that maybe he wouldn't want people to see so much of the creative process before it was finalized. But I think that's the beauty of the film."

"It's Michael becoming great, perfecting his perfection, if that makes sense," said fellow dancer Nick Bass.
We say goodbye to both Michaels, now. We take all that weird but mostly sad baggage. And we dump it. We don't think about the cardiac arrest, the reports of propofol, lorazepam and midazolam (he went from creating chemistry to becoming it), and charges of homicide.

We dump it all, because death asks our forbearance. Death forces us to say goodbye to what was good. Watching Jackson in rehearsal, it's hardly a stretch. To watch him in this movie is to see — and yet never quite fully capture, and that's the mystique of it — what all the fuss has always been about.
Jackson's total lack of engagement with the cameras adds to the unreal mood. He's always performing, but for the imagined masses, not for the filmgoer.
Not reaching those masses was the final tragedy of Jackson's life. Occasionally, he's shown offering creative direction to his collaborators, and the steel in his voice reveals how much the world he was creating onstage meant to him. Everything, really: enough to push himself to the edge of human endurance.