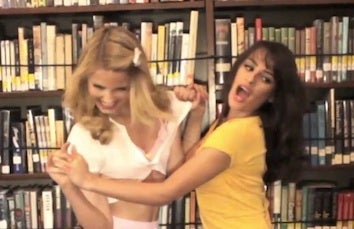 GQ's Glee photoshoot was even skeevier than what made it to the page. In a newly-released video, Lea Michele plays up the porny schoolgirl shtick, rips off Dianna Agron's top, and gets sprayed down with silly string by Terry Richardson.
Michele, who asks coyly, "Can anyone find me a book on sex education?" seems the most enthusiastic about the opportunity to show off her sexyface. Unlike Agron, who's said, "At the time, it wasn't my favorite idea, but I did not walk away," Michele has never denounced the photos.
Michel did remark, "I don't know how they got me to do half the stuff I did," and we still don't know either. The video is edited so all we hear is the soundtrack to their super-sexy fun, not Uncle Terry urging her to spreading her legs a little further or seductively twirl her lollipop.
Video: Glee Gone Wild [GQ]
Fell Down The Rabbit Hole [Tumblr]
VIDEO: Glee's Racy GQ Spread - Now See Video From Behind-The-Scenes! [Radar]