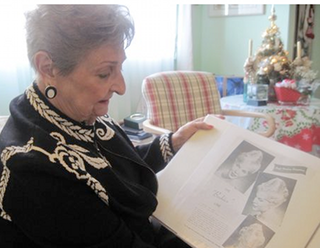 Awesome: The Chicago History Museum is inducting 92-year old hairdresser Margaret Vinci Heldt — and the hat that inspired the first beehive hairdo — into their collection.
Held, a Michigan Avenue stylist, invented the now-iconic do in 1960 after Modern Beauty Salon magazine asked her to create a look to mark the new decade. "Nothing much had happened since the French twist, the pageboy and the flip...They told me: 'We want you to come up with something really different."' As for the name, it's not so literal as you might think. Says the Trib,
For inspiration, Heldt needed to look no further than a black velvet fez-style cap she owned with two beaded decorations that look like bees. The hat inspired her to create a style that would not need a lot of maintenance. "I liked that hat because, when I took it off, my hairstyle stayed in place," Heldt said.
This is the hat that will be inducted. In addition, Cosmetologists Chicago has created a scholarship in Heldt's name, which will be awarded for the first time this coming March.

Meet Margaret Vinci Heldt: She Invented The Beehive For Your Head [TheLifeFiles]
Beehive Style Lands Elmhurst Woman A Place In Fashion History [Chicago Tribune]