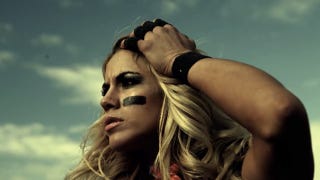 February 5th is right around the corner, Sport Heads, so I ask you, are you ready for some lingerie football? That's right— fire up the grill, chill some brews and invite over your best buds because it's time for the most important sporting event of the year (that takes place on MTV2). This year, however, the highly anticipated Lingerie Bowl is getting a different spin in the advertising department. Sure, we still see a lot of busty ladies walking around in tiny tiny clothing, but we also see our share of pretty intense football action and, damn, can those broads tackle.
Of course, it's ridiculous to think that anything called the Lingerie Bowl would (or should) get the same respect as professional sports. The focus on aesthetics over athleticism is enough to dismiss it as misogynistic fodder for incredibly limited masturbation fantasies, but the footage of the players in the heat of the game makes you wonder if female professional football could soon become a reality. The talent is there? Now how about complete uniforms and a little respect?
2012 Lingerie Bowl Commercial (Extended Directors Cut) from LFL Films on Vimeo.