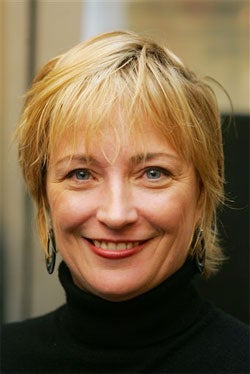 The success of the magazine she oversees has long been contingent on exploiting female anxieties (Shouldn't he have asked you to marry him yet? Maybe it's because you're not a good enough cuddler? Or because you talk too much? But it's probably because you can't give a blow-job to save your life!) and then 'solving' them, but Cosmopolitan's Kate White is no Nervous Nellie herself. In fact, according to graphologist Sheila Kurtz, unlike her predecessors at the magazine — the famously dysfunctional Bonnie Fuller and the self-hating Helen Gurley Brown — White is as conventional and sensible as her name suggests. (Maybe that's why, when she's not cooking up back-bruising new sexual positions for America's masochistic young women, she writes mystery novels?). An analysis of White's annoyingly white-bread signature, after the jump.
Her signature is easy to read, with a good flow, a consistent rhythm. She is in balance emotionally. There are acquisitive hooks at the start of the W in White and the "t" in that name.

The "t" forms are very short, a sign of an independent thinker. She makes her own decisions. The endings of Kate and White are both strong, a sign of decisiveness. The t bars are strong and heavy, an indication of good energy and drive.
'Consistent rhythm... strong and heavy... good energy and drive'? Sounds like Kate is a Hot Tub Hug kind of woman.
Sex Position Of The Week [Cosmopolitan]
Related: Kate White Is A Secret Blonde Genius [Gawker]