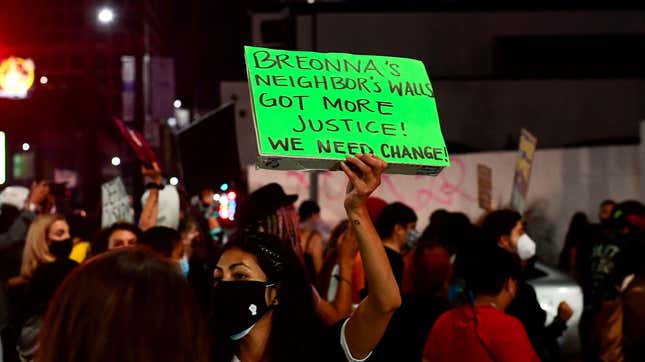 On the second night of nationwide protests following the announcement that no one was legally responsible for the killing of Breonna Taylor, the Louisville Metro Police Department arrested Kentucky State Representative Attica Scott, the state's sole Black woman in its state legislature and the author of Breonna's Law, as she was protesting the lack of any accountability whatsoever.
According to the Louisville Courier-Journal, Scott, her daughter Ashanti, and the activist Shameka Parrish-Wright were part of a group of at least 24 protesters that were arrested by the police for, as far as I can tell, merely protesting past the 9 p.m. curfew imposed on the city's residents and being in proximity to someone who broke a window at the library downtown and then threw a flare inside the building, which led to minimal damage. (The union that represents the library's staff, in case you're wondering, issued a statement, writing, "We continue to stand in support with protestors demanding justice for Breonna Taylor, and we send all our love to Representative Attica Scott and the protestors arrested with her.")
The protesters, including Scott, were charged with the class D felony of first-degree rioting as well as failure to disperse and unlawful assembly. As some have pointed out, that means that Scott and other protesters are facing the same level of criminal charges as Brett Hankison, the former LPMD officer who was charged merely with "wanton endangerment" of Taylor's neighbors. Is there a more painfully perfect distillation of everything wrong with our so-called criminal justice system than the fact that Scott and Hankison, under the eyes of the law, are in equal violation of it?
On Thursday night, thousands protested in cities around the country, including Los Angeles, where a truck drove through a crowd of protesters gathered in Hollywood. In Louisville, the protests appear only to be growing, despite the evening curfew.
Tamika Palmer, Taylor's mother, also spoke at a protest earlier in the day on Thursday. "I didn't have faith in them to begin with. I was holding out hope," Palmer said of her reaction to Wednesday's indictment. There's still a lot of work to be done. It doesn't end there," she said, and encouraged people to continue to show up at protests as well as vote. "Protesting is nothing if we don't take it to the polls."
On Friday morning, Kentucky Rep. Charles Booker tweeted that Rep. Scott had been released, and that "our fight for justice grows only stronger":
Scott, who has been in office since 2017, has been one of the most vocal political leaders in the state since Taylor's killing. In August, Scott introduced Breonna's Law, a bill that would end the use of "no-knock" warrants statewide, as well as require drug and alcohol testing of officers who shoot and kill people, and for body cameras to be turned on whenever warrants are served. "Louisville is showing all of Kentucky that this is a brand new day; that docile Black person you're used to is gone, long gone," Scott said during her press conference introducing the bill.
In an interview earlier this week with NPR, Scott called for the passage of Breonna's Law, and promised she and others would continue protesting. "[J]ustice also is hardly ever served when it's police officers murdering Black people," Scott said. "And so we are clear that our call to action is to continue to make sure that the city of Louisville understands that we will not go away, that we will continue to demand the defunding of police and the dismantling of this police department because it's corrupt from the inside out, from the bottom to the top."
"And it cannot continue to function in the way that it does," she added.