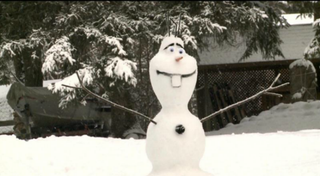 A man in Wisconsin built a replica of Olaf the Snowman from Frozen for his grandson, because he is living in a Garrison Keillor novel or something.
Ralph Dixon of Schofield told WAOW he built the snowman for his grandson, and spent several weeks working on it. (Who knew this was such a time consuming process?) "Oh [my grandson will] be surprised," he said. "He was expecting me to build just a regular snowman. I told him today at church that [the snowman is] just a little bit taller than you are."
I know you are probably sitting there reading this and trying to stick to your "Frozen, ugh, we're not into Disney's corporate bullshit in this family ::eyeroll::" stance. But really, deep down inside you want to bring a Disney movie to life for your kid and watch him or her freak the hell out when they see it. We understand. We do too. It's the holidays, after all.
Image via WAOW