North Carolina Republican Congressman Mark Meadows, currently one of the people leading the charge to defund Planned Parenthood, is accused of paying his chief of staff for months after multiple women complained they were being sexually harassed by the man. The chief, Kenny West, was first banned from the congressman's DC office and eventually dismissed, according to the Huffington Post, taking a hefty severance package as he left.
Meadows has been much in the news the last several weeks for his calls to defund Planned Parenthood, telling Fox Congress has a "moral obligation" to do so. So now is an inconvenient time for this weird story to come out, which says that Meadows continued paying West for six months after three female staffers complained he was sexually harassing them.
West and Meadows both ran for the 11th District of North Carolina Congressional seat in 2012; when Meadows won, he appointed West as his chief of staff. Both men are affiliated with the Tea Party. West described himself in a statement as a staunch social conservative who opposes same-sex marriage and who feels there is an insufficient amount of God in government currently.
West stopped working for Meadows on May 21. Politico reported in September that he was both improperly reimbursed by Meadows for mileage he drove after he wasn't employed by the Congressman anymore. In a later report, they found that he was also paid through August 15, which they pointed out that could be a violation of House ethics rules.
On Monday, the Huffington Post reported that West was accused of sexual harassment in March, leading to him being banned from the DC offices and ultimately dismissed that May. But he continued getting his full salary until June, and severance and other payments through August.
G/O Media may get a commission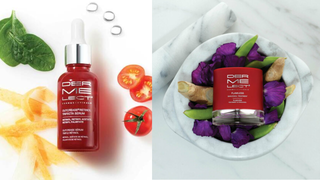 Save $19
Retinol Renewal Kit
An anonymous source told HuffPo that West was kind of a creep, both before and while he worked for Meadows:
A person close to Meadows said he personally observed West's behavior around women before he was offered the job, and warned Meadows about West. "There were a number of us who talked to him and basically said, 'You have a problem here,' before he ever got sworn into office," he said. His behavior apparently didn't change in the congressional office. "I've heard that basically since day one," the source said.

"I don't know if it's just his personality, but I know he paws on people. And I do know within his office, there have been a lot of complaints. As one of his staffers told me, 'The son of a bitch has had a complaint on him by every woman in our office.'"
One former female staffer told the Huffington Post that West was especially fond of insisting on holding women's hands and praying for them. Reached at his home, he told the website he was unaware of any sexual harassment allegations.
West and his wife celebrated their 37th anniversary in July, according to her Facebook page.
---
Contact the author at anna.merlan@jezebel.com.
Public PGP key
PGP fingerprint: 67B5 5767 9D6F 652E 8EFD 76F5 3CF0 DAF2 79E5 1FB6
Kenny West in a 2012 campaign video. Screengrab via YouTube