For the first time ever, Cooking Light magazine has done something crazy for their cover: they've put a person on it, namely First Lady Michelle Obama. Who do they think they are to be reinventing the wheel – Oprah?
The First Lady is on the cover for the 5th anniversary of her Let's Move campaign. In her ~exclusive~ interview, she talks about the importance of eating dinner together as a family every night and how she changed the food she served daughters Sasha and Malia when she was young, busy working mom.
Michelle says she realized she was too reliant on processed foods and takeout when she took her girls to the pediatrician and he said "Something is a little off.":
So we made very simple changes as a result of what our pediatrician told us. I cooked probably one or two more meals, and it was something simple—maybe a baked chicken, couscous, steamed broccoli. I kept it simple but made sure there was always a vegetable and always a good grain on the plate.

But more importantly, we just eliminated all the processed foods, all those packaged lunches, all of the canned juices. We started using fresh-squeezed juice and added more water into their diet. So when the kids were thirsty, we would even mix water in juice just to dilute it so it would get them out of that habit of wanting that sugary taste. And the kids adapted to the changes very quickly. By the time we went back for the next visit, our pediatrician said, "What have you done?" And I was like, "What?" He said, "I haven't seen these numbers change in such a short period of time in this way in a while." And that's when we started having the conversation of just how easy—it's about information and knowledge. I didn't know, but once I had the information, it was fairly easy to make the changes.
She also told a great story about former White House hottie Sam Kass, whom she credits with being "the core of our processed-food elimination."
And my kids loved the macaroni and cheese in a box. And he said, if it's not real food then we're not going to do it. If we want macaroni and cheese, we'll cook it with real milk and real cheese. He said, there's nothing wrong with mac and cheese, but it's got to be real food.

So my oldest daughter [Malia], who was probably 8 at the time, he took a block of cheese and he said, if you can cut this cheese up into the powder that is the cheese of the boxed macaroni and cheese, then we'll use it. She sat there for 30 minutes trying to pulverize a block of cheese into dust. I mean, she was really focused on it, and it just didn't work, so she had to give up. And from then on, we stopped eating macaroni and cheese out of a box, because cheese dust is not food, as was the moral of that story.
G/O Media may get a commission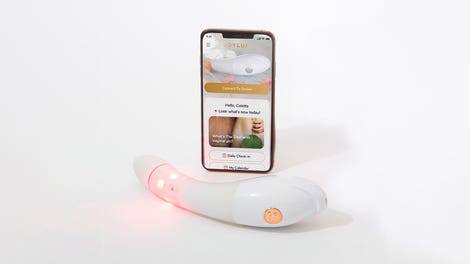 $50 Off
Joylux vFit Gold Device
Emphasis added because what a visual!
Also Michelle Obama considers Eleanor Roosevelt "one of the greatest first ladies that have ever lived" and and one of her own personal idols. Congrats Cooking Light; this interview was well-worth booting a plate off skinless, boneless chicken off the cover for a real live person.
Image via Cooking Light